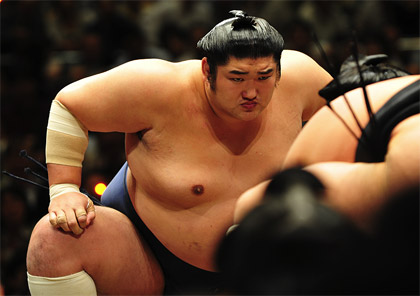 The public have made clear their reaction to the latest sumo scandal that has already ended two careers and several reprimands and demotions. Ozeki (champion) Kotomitsuki (photo) and stablemaster Otake were banned from the sport for life on Sunday for their prominent roles in the scandal, which saw dozens of wrestlers gambling huge sums on baseball via yakuza middlemen. Japan Sumo Association Chairman Musashigawa has been suspended until the end of the Nagoya Grand Sumo Tournament, which runs from July 11-25 at Aichi Prefectural Gymnasium.
Of the more than 11,000 calls to NHK since the scandal broke in mid-June, 68% have demanded that the network cancel its scheduled live broadcast of the tournament, while only 11% have been in support of it. NHK chairman Fukuchi Shigeo said at his regular press conference that a decision would be made today, based on yesterday's meeting of the JSA.
The two people banned by the JSA bring the total fired in the last couple of years to 11. Previous cases have involved the use of marijuana and the hazing death of a young wrestler. Popular but controversial Yokozuna (grand champion) Asashoryu was forced into early retirement earlier this year after he assaulted a man outside a Tokyo nightclub.
UPDATE: NHK announced this afternoon that it would not carry its live broadcast of the Nagoya tournament. This is the first such cancellation in the 57-year history of sumo broadcasts on NHK.
X Japan Duo Perform in Paris
In their first ever live performance in Europe, X Japan leader Yoshiki and vocalist Toshi were special guests on Sunday at the "Japan Expo" in Paris. The duo gave the 8,000 fans what they wanted, performing four songs: "Forever Love," "Endless Rain," "Rose of Pain" and "I.V." As the duo left the stage, the audience got to hear their new single "Born to be Free."
Hanya in Taxi Dinger
Popular young comedy duo Hanya were involved in a minor traffic accident last night, according to the Sankei Sports newspaper. The pair were in a taxi that collided with another taxi in the central Tokyo district of Yotsuya. Only the passenger in the other car suffered slight injuries.