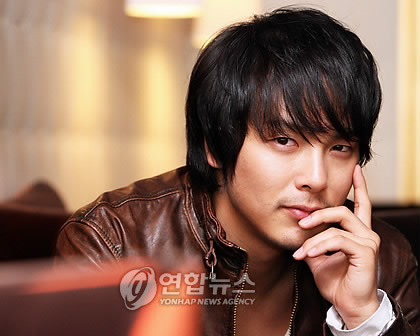 The many Japanese fans of Korean star Park Yong Ha are in shock today as news came out of his apparent suicide. Early this morning, the 32-year-old actor was found by his mother at their home in Seoul, where he appeared to have hung himself using a power cord from a mobile phone. He is said to have been helping care for his father, who has been diagnosed with terminal stomach cancer.
Park made his acting debut in 1994 but only found fame in 2003 with the hit TV drama series "Winter Sonata." That series sparked a massive boom in Korean popular culture in Japan and made household names of its lead stars Bae Yong Joon and Choi Ji Woo. Park, who played the love rival of Bae, first visited Japan in 2004 and for the next couple of years focused on his singing career here. In 2007 he was named as a Best Asian Artist at the Nihon Gold Disc Taisho awards. Just this month, he released his 5th studio album and started a nationwide concert tour on June 19. His last show was in Saitama Prefecture on Saturday and he was scheduled to perform at the Kobe International House on Friday.
It's a Wrap for Odoru3
Oda Yuji (42) was one of 23 cast members to appear at preview yesterday of "Odoru Daisosasen The Movie 3." Some 4,000 fans came to the Tokyo International Forum to get an early look at the third installment in Japan's most successful ever movie franchise. The movie is scheduled to open in theaters this weekend.
Itoh Misaki is a Mother
Actress Itoh Misaki (33) gave birth to her first child in Tokyo on June 27, her management announced yesterday. Itoh married Enomoto Yoshinori (41), CEO of major pachinko company Kyoraku Sangyo, in November of last year. There has been no announcement regarding her return to work.
Earlier story:
Itoh Misaki Marries Pachinko CEO (Nov. 19, 2009)