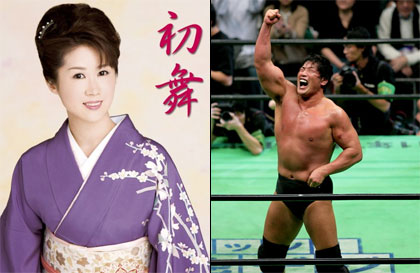 Enka singer Mizuki Mai (36) announced on her blog yesterday that she and hugely popular wrestler Kobashi Kenta (43) are to be married in the autumn. The couple are said to have been dating for about 10 years, during which time both their careers have undergone some major upheavals. Mizuki debuted as an aidoru singer in 1992 using her given name of Hosoe Mayuko. She had moderate success and released half a dozen singles, before taking on a new name and image as an enka singer in 2004.
At that time Kobashi was one of the top figures in the professional wrestling scene. But in June 2006 he was diagnosed with kidney cancer and underwent surgery. He was at the Nippon Budokan six months later to announce that he would return to the ring within a year. He was true to his word, but in September 2008 he dislocated both elbows and was sidelined for another six months. And in January of this year he pulled out of a tour following yet more trouble with injuries. Kobashi is vice-president of the Pro-Wrestling NOAH troupe, a position he took on shortly after the sport was devastated by the death of his boss, Misawa Mitsuharu, in the middle of a bout.
Mizuki and Kobashi are expected to speak with the media today about their plans for a wedding ceremony and reception in Tokyo on October 2.