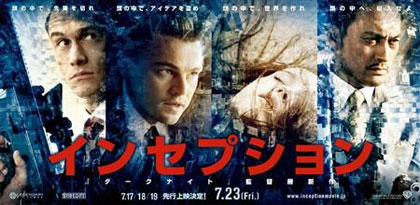 A quick roundup of some other interesting stories from last weekend.
Ex-Wink Star Retires After Scandal
Former aidoru star Suzuki Sachiko (41) has announced her retirement from showbiz after a scandal blew up over the weekend. Last Thursday's issue of the magazine "Shukan Bunshun" reported that she had admitted to having a 4-year affair with married stage actor Tsuda Eisuke (39). Tsuda denied the affair in his blog on Friday, insisting that Suzuki was his sempai at their management agency and nothing more. As one half of the duo Wink, Suzuki was a major star from the late 1980s to the mid-90s.
New Poster Featuring Leo, Ken
A new poster was released yesterday for Watanabe Ken's latest Hollywood venture. He stars alongside Leonardo DiCaprio (35) in the sci-fi thriller "Inception," directed by Christopher Nolan and due for release here on July 23. The new poster also features Joseph Gordon-Levitt (29) and Ellen Page (23). Watanabe (50) previously worked with Nolan on "Batman Begins" (2005).
Mori Shinichi Tags with Komuro Tetsuya
Enka star Mori Shinichi (62) announced on Sunday that his new single will be produced by none other than J-pop guru Komuro Tetsuya (51). Both are major stars who have had a difficult couple of years. Not long after a messy divorce from his wife of 19 years, Mori got caught up in a scandal surrounding the use of unapproved lyrics in his signature song "Ofukuro-san," which led to a very public dispute with the songwriter. Meanwhile Komuro is trying to rebuild his career and his life following his 2008 arrest and trial for the fraudulent sale of the copyrights to hundreds of his songs. In their first collaboration, Komuro has produced "Nemurenai Love Song," a single released to commemorate Mori's 45th year in showbiz.
KAT-TUN's Akanishi Performs in LA
Akanishi Jin, a member of the Johnny's Jimusho aidoru group KAT-TUN, became the agency's first artist to perform solo in the US with a couple of shows in Los Angeles over the weekend. During the "You & Jin USA" shows it was announced that there will be more dates in the autumn in cities including New York and Las Vegas.