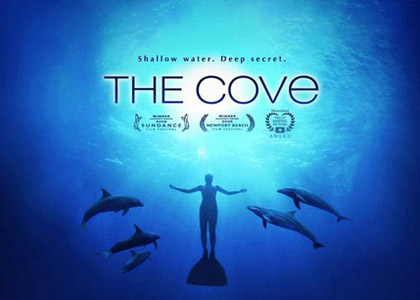 The Yokohama District Court has placed a restraining order on right-wingers protesting against controversial Hollywood documentary The Cove. The court issued a decision temporarily forbidding the Tokyo-based group (not named in stories but widely known to be Shuken Kaifuku wo Mezasu Kai) from staging its noisy protests outside or within 100m of the Yokohama New Theater. Members of the group are also forbidden to enter the cinema without the permission of its management.
According to Unplugged, the Japanese distributor of the movie, the decision is effective as of June 24. A spokesperson for the company said, "It is a natural decision, as the protests to stop the screening of this movie are malicious. There are no plans to change the screening schedule." The Yokohama cinema is one of six that recently announced they would screen the Academy Award-winning movie from July 3.
Controversy surrounding the movie peaked over the last two weeks during a promotional visit to Japan by Ric O'Barry, the dolphin activist at the center of the movie. The documentary portrays the annual slaughter of thousands of dolphins in the small fishing town of Taiji, Wakayama Prefecture and the sale for consumption of the dolphin meat though it contains dangerously high levels of mercury and other toxins. While extremists have claimed that the movie is an attack on Japanese culture, O'Barry has repeatedly stressed that neither he nor the movie are anti-Japan, and that the Japanese people are entitled to see the movie and decide for themselves.