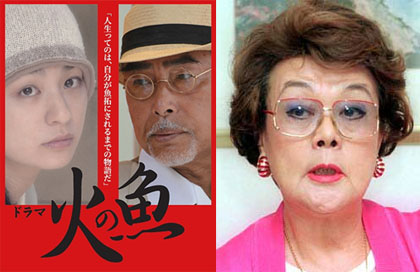 Tokyo police said today that they had arrested a 27-year-old Hiroshima Prefecture man on suspicion of sending threatening letters to members of popular aidoru group AKB48. Nishimoto Yoshinobu, described as unemployed, is accused of sending the hand-written A4-size letters, which included disposable razor blades, to the group's management office in Tokyo at the end of April. In a less than smart move, he signed the letters "From N.Y." and included his name and address on the back of the envelopes. He is said to have confessed to the crime.
NHK Drama Takes Monaco Prize
An NHK drama has taken a top prize at the 50th Monte Carlo Television Festival. "Hi no Sakana" (Goldfish, photo left), which aired on the network in March, won the Golden Nymph award for Best TV Movie, the first time in 26 years that a one-off NHK drama has won the award in that category. The drama was made by NHK Hiroshima and was filmed against the beautiful backdrop of the Seto Inland Sea. It tells the story of Murata, a successful but gruff novelist, who has moved back to his small native island after a playboy youth in Tokyo. But even a decade later, his only social connection is with his pet, a large goldfish. That is until a young female editor comes from Tokyo to collect his manuscripts.
Sacchi Sues Over Yakuza Slur
Nomura Sachiyo (78, photo right), talento and wife of baseball legend Nomura Katsuya (75), has sued a magazine that recently ran an article suggesting she had connections with organized crime. The weekly "Suukan Shinchou" magazine published a story in its June 10 issue that said Sacchi watched the May Grand Sumo Tournament in Tokyo in the company of a female member of a yakuza group. Seeking ¥3.3 million in libel damages, Sacchi said she didn't know the woman who sat next to her.