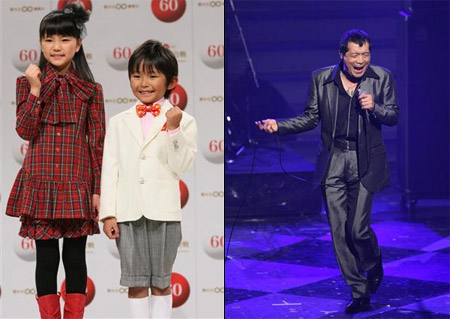 NHK are probably happy with the audience ratings for "Kohaku Uta Gassen," the network's New Year's Eve song spectacle. In its golden age, the show was compulsory viewing for the whole nation, but with the increase in satellite channels, online distractions and competition from the other networks, its ratings have been in steady decline. NHK have tried various means to reverse the trend, and a show that keeps the ratings above the 40% level has to be deemed a success. The second half of Friday's 60th anniversary show (9:00-11:45pm) featured VIP performances by Susan Boyle (48) and rock legend Yazawa Eikichi (60, photo right), but the 40.8% rating was lower than last year's 42.1%. The show also included the Kohaku debut of hugely popular Johnny's Jimusho idol group Arashi; the first appearance in 16 years by popular actor-singer Fukuyama Masaharu (40) in a satellite hookup from his hometown of Nagasaki; child stars Ohashi Nozomi (10, photo left), who sang last year's "Ponyo" theme, and Kato Kiyoshiro (8, photo left), who has already been in more than 20 TV dramas and, most notably, a series of TV commercials for Toyota; and a powerful and emotional performance by singer Ayaka (22) in her final show before taking an extended break to battle Graves' Disease.
Meanwhile, despite heavy promotion of this year's taiga drama series and its star, NHK saw just average ratings for last night's first episode "Ryomaden." The latest dramatization of the life of 19th-century samurai Sakamoto Ryoma, it stars Fukuyama Masaharu, who has been working the TV circuit to help promote the series. Last year's taiga, "Tenchijin," started with an audience rating of 24.7% in the Kanto region, while 2007's "Atsuhime" only managed 20.3%.
• Comedian Chihara Junior (35) has broken up with actress Uchida Yuki (34). The Yoshimoto comedian let the news slip during a comedy variety show aired on Saturday. The pair's relationship was first revealed in the gossip magazines back in the spring of 2007. Uchida was previously married to actor Yoshioka Hidetaka for three years until they split in 2005.