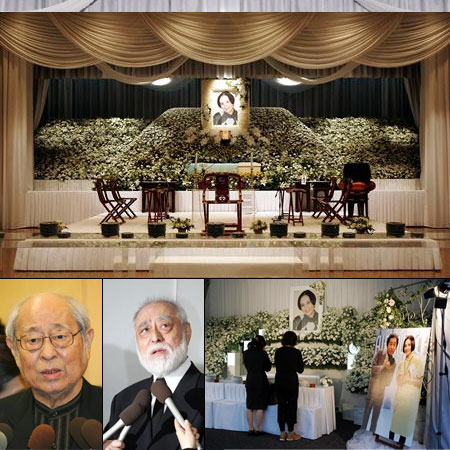 A wake was held yesterday for the late actress Minamida Yoko, who died on October 21 at the age of 76 following a brain hemorrhage. About 500 people attended the wake at the Koshoden Hall at Zojoji temple in central Tokyo. They included her husband, actor Nagato Hiroyuki (75, photo bottom left) and her brother-in-law, actor Tsugawa Masahiko (69, bottom center). Nagato went to the wake straight after finishing the last show in a run at the nearby Meiji-za theater. The two were considered one of the closest married couples in Japanese showbiz, and in recent years Nagoto had taken care of his wife as she battled dementia. Sources said that some of Minamida's favorite photos, along with a kimono and obi were placed with her in her coffin. It was surrounded by thousands of freesias, her favorite flower, and the hall was filled with the song "Maui Waltz," a favorite of Minamida and her husband.

Earlier story:
Sayonara, Minamida Yoko (Oct. 22, 2009)
• The Tokyo apartment belonging to Sakai Noriko (38) is likely to be put up for auction or rent, according to the Sports Hochi news website. The disgraced former top idol singer is said to be planning to study welfare and nursing care and will give up her 140sq.m. Minami Aoyama apartment to pay for it. The luxury apartment would have sold for over ¥100 million when new and can still command a rent of around ¥400,000 per month. Renovation of the apartment was recently completed and it is said to be completely empty.
Though there has been no official announcement, Souzou Gakuen University in Takasaki, Gunma Prefecture is considered the most likely place for Sakai to study. The university has a social work department and facilitates e-learning, which would help prevent the star's enrollment from disrupting campus life.