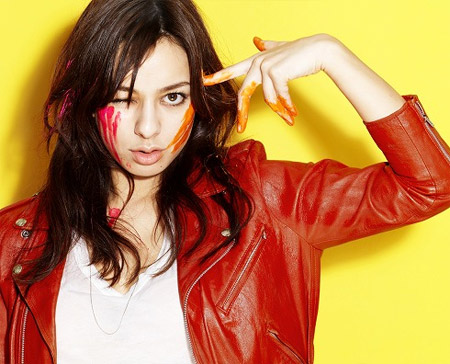 Up and coming J-pop singer MiChi (24) said she was "hugely embarrassed" yesterday as she performed a mini concert for just one lucky fan. The PR stunt was for the single "You," 10,000 copies of which came with a message card but just one with an invitation to a studio for the special live event. MiChi performed four songs for her minimal audience, a 24-year-old woman from Hyogo Prefecture.
Born in the UK city of Birmingham to a British father and Japanese mother, she moved to Kobe when she was 2 years old. However, the family moved back to the UK after the Great Hanshin Earthquake of 1995. At the age of 18 she was on the verge of entering art college in Manchester, but decided instead to return to Japan to try her hand at a singing career. Within a year she was working with producer Matsuzawa Tomokazu and in June 2008 she released her first indie album. The album topped the iTunes chart and three tracks (including "Fxxk You and Your Money") took the top three slots on the iTunes dance chart. Before the end of the year she had made her major label debut with the album "PROMiSE" on Sony Music. This year has seen her touring, taking part in summer festivals and making several TV commercial appearances.
• Comedian Matsumoto Hitoshi (46) is a father, it was revealed yesterday. His wife, former TV weather girl Ihara Rin (26), gave birth to a baby girl on October 6. Ihara had a solid career, working on three regular weekly shows, when she announced her retirement in September of last year. Matsumoto, one half of the comedy duo Downtown and more recently a movie director, announced their marriage plans and the pregnancy in May. He is currently in South Korea, where his second movie "Shimboru" is being shown at the Pusan International Film Festival.

Earlier story:
Downtown's Machan Married (May 18, 2009)