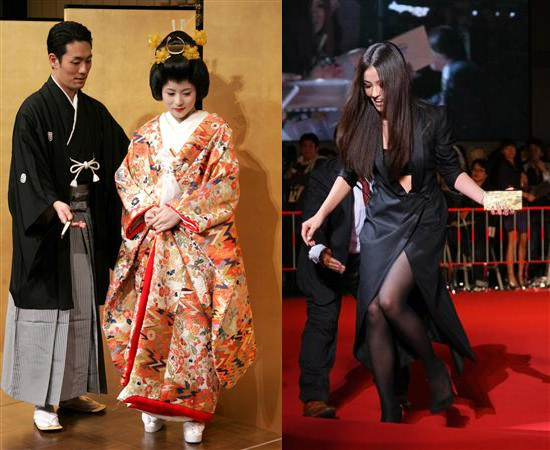 Kabuki actor Nakamura Kantaro (27) and actress Maeda Ai (26) held their wedding ceremony and reception at the Hotel Okura in central Tokyo yesterday. The couple's relationship began in 2001 when they appeared together in the NHK drama "Hikari no Teikoku." Yesterday's event was attended by more than 640 guests, including all the major kabuki names and many stars of showbiz and sports. At the wedding ceremony, Maeda's father carried a portrait of her mother, who died in January of last year, while the groom's father, actor Nakamura Kanzaburo (56), talked sentimentally about how he and his wife also married in the Hotel Okura 30 years ago.
Maeda wore an elaborately designed kimono said to have been restored from one made more than 400 years ago in the Momoyama Era. "This kimono is really heavy," she said. "I guess I'm taking on a pretty 'heavy' responsibility today." Entering the world of traditional Japanese theater is always viewed as tough for those not born into it, even if they are moving across from the regular showbiz community. Over the next couple of years, she'll be expected to support her husband as he prepares to take the venerable stage name of Nakamura Kankuro VI in 2012. Yesterday's event was heavy with traditional features, including the breaking of a sake cask and wadaiko drummers. The newlyweds gave a press conference after the reception, showing off their rings and saying they plan to honeymoon next month at an onsen resort. Meanwhile, the father of the groom had a bit too much to drink and canceled his planned press conference.

Earlier story:
Nakamura Kantaro, Maeda Ai to Marry (Jan. 7, 2009)
• Also looking beautiful yesterday was actress Kuroki Meisa (21, photo right), who was among the guests at the Japan premiere of the Michael Jackson documentary "This Is It." Also attending the event at the Roppongi Hills Arena in central Tokyo was the legendary Lionel Richie (60) and many other local stars. Not among them was SMAP member Nakai Masahiro (37), but that was because he was the only celebrity invited from Japan to the U.S. premiere in Los Angeles (X Japan's Yoshiki was there too, but he lives in L.A.). He appeared live on the "SMAPxSMAP" variety show via satellite hookup.