I've been away for the last 10 days, and planned to do news updates on the road. As it turned out, it wasn't possible. I apologize to all those readers who missed out on the most recent news. Here's a brief summary of what's been happening in Japan recently.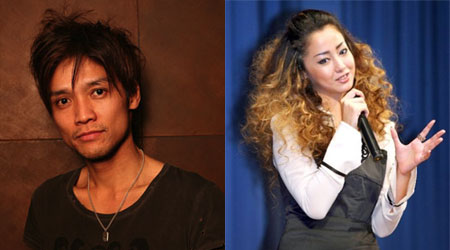 Narita Shoji (41, photo left), the former guitarist of the Johnny's Jimusho rock group Otokogumi, is the latest celebrity arrested for drugs. He was arrested at his Shibuya home on September 27 for possession of several grams of marijuana. Otokogumi debuted in 1988 and won several music awards before "Time Zone" propelled to the top of the idol heap in 1989. They released 10 singles and 8 original albums before they split up in 1993. Narita left Johnny's at that time but continued to perform solo mainly at live houses around the capital.
• There has been no mention of drugs being directly involved, but actress Sawajiri Erika (23, photo right) was fired by Stardust Promotion shortly before the top management agency became the first to announce that it would ask all its talent to undergo drug testing. The agency has said only that Sawajiri, who has spent most of the last six months overseas with her husband, was in "serious breach" of her contract. The news came shortly before she was to be announced to the cast of the major movie adaptation of "Uchusenkan Yamato" (Space Battleship Yamato). Stardust has over 350 celebrities on its books, including top actresses Tokiwa Takako, Matsuyuki Yasuko, Nakatani Miki and Shibasaki Ko, and actors Shiina Kippei and Ichihara Hayato.
• Singer Tsukui Katsuyuki died on October 2 of pancreatic cancer at a Tokyo hospital. He was 49. He was one half of the duo Class, whose debut single "Natsu no Hi no 1993" sold over 1.6 million copies and became a J-pop standard. The duo split in 1996 and had a brief revival in 2003. Tsukui's cancer was discovered in February of this year and he underwent chemotherapy.
• Comedian Tanaka Yuji (44) revealed on October 2 that he got divorced the same day, announcing the news via his management agency's website. He addressed the issue during this morning's live "Sunday Japon" show, which he hosts with his Bakusho Mondai partner Ota Hikari (44). Tanaka said the divorce had been at the request of his wife, Natsumi (35). The couple were married for nine years but had no children. Tanaka had one testicle surgically removed six months after his wedding, a development he got good comedy mileage from. But rather than any physical problem, the cause of the marital split is more likely to be Bakusho Mondai's increased popularity. The duo currently have a hectic work schedule that includes 11 regular TV and radio slots.
• Also divorced is actress Matsubara Chiaki (51), though the news was broken by her previous ex-husband as he announced his third marriage. Actor Ishida Junichi (55) gave a press conference on September 29 to formally announce his engagement to pro golfer Higashio Riko (33). Ishida and Matsubara had a daughter, model Sumire (19), in 1998 but split the following year. Six months later, Matsubara married an American divorcee (43) who happened to be her daughter's English teacher. They lived in Hawaii and had a son (9) but that marriage ended at the beginning of this year. Matsubara is said to be planning to return to work in Japanese showbiz.
• A car salesman was recently arrested for swindling singer Nishikawa Takanori (39) out of ¥50 million. Better known as T.M. Revolution, Nishikawa loaned the money to Saito Yasuo (34) in April 2003. Nishikawa took the matter to police in November 2004 when Saito refused to make any repayments on the loan. The singer was originally a customer of Saito, who at the time had his own car sales business.