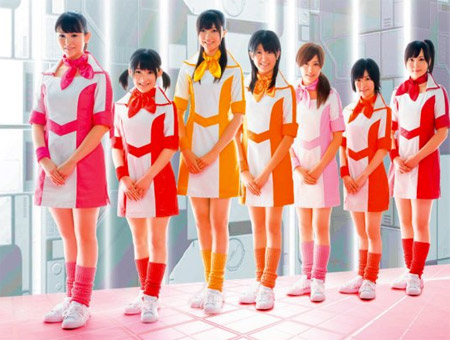 The teen idols are dropping like flies! Female idol group Berryz Kobo have canceled a concert scheduled for today in the northern city of Sendai after five of the seven members were diagnosed with influenza. At the moment, no changes have been made to their upcoming performance plans, and the Sendai show has been rescheduled for December 30. Meanwhile, AKB48 member Sato Natsuki (19) will sit out several shows on doctor's orders after suffering a leg injury. With dozens of members, the Akihabara-based idol group has no shortage of replacements, though fellow member Fujie Reina (15) is currently out with, you guessed it, influenza. The group performs daily at a special theater in Tokyo's mecca for otaku.
• Enka singer Koda Shin (42) got divorced in mid-August, he revealed yesterday. The divorce was at the request of his wife of 11 years (35), who was simply tired of Koda's constant routine of regional concerts and TV appearances that kept him away from home. In an unusual arrangement he has custody of his two children and his mother-in-law has agreed to move in with them. As for the timing of the announcement, why yes he does have a new single out, the aptly titled "Kokoro no Kizu," (Wounds of the Heart).
• Mariah Carey has been joined in Tokyo by another American soul diva. It's unlikely that the pair hooked up, but Beyonce (28) was at a party sponsored by the Samantha Thavasa fashion brand last night. She has two shows this weekend at the nearby Saitama Super Arena, following last week's shows in Kobe, Osaka and Nagoya.