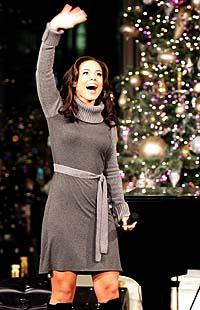 American singer Alicia Keys (26) had Tokyo's office workers buzzing when she gave a free mini-concert in Marunouchi yesterday. Performing on a piano in the lobby of the Maru Building, a glittering symbol of the rebirth of Tokyo's business district, she shared the stage with an 8m Christmas tree whose illuminations were changed to champagne pink for the event. She described the show as "an early Christmas present for all the hard working ladies", and the aisles on the first to sixth floors facing the lobby were packed with an estimated 2,500 people, mostly "office ladies". The 9-time Grammy Award winner performed three songs, including "No One", the U.S. chart-topping first single from her latest album "As I Am."
• Popular actress Matsu Takako (30) is reportedly engaged to marry guitarist and producer Sahashi Yoshiyuki (46), the Sports Houchi newspaper revealed today. The couple first met in 2001, had an on-and-off relationship from 2004, and started dating seriously again last year. They are said to be planning to tie the knot next spring.
Edit: Matsu's management agency released a statement on November 30 she and Sahashi were dating but denying they have any plans to marry.
• A private funeral was held yesterday for talent agency boss Oguchi Kenji. He was 59. Details of his death were not announced but he was known to have suffered from diabetes, which led to loss of weight and other health problems. As president of the From First Productions agency, he nurtured the careers of such top actors as Takenaka Naoto (51) and Motoki Masahiro (41). Earlier in his career he managed Go Hiromi (52) while he was with the Johnny's Jimusho agency. He was also president of Tokyo Six Productions, the company that represented disgraced former star Haga Kenji (46), who was arrested on extortion charges this summer.