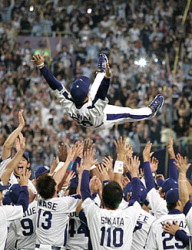 The Chunichi Dragons had to wait 53 years for their second Japan Series crown, and they won it in perfect style in front of their home fans last night at the Nagoya Dome. Surprise starter Yamai Daisuke and star closer Iwase Hitoki combined to pitch the first ever perfect game in the 57-year history of the Japan Series, totally dominating the Nippon Ham Fighters to clinch the series 4-1. Yamai struck out six over eight perfect innings and Iwase retired the final three batters in order in the ninth. Losing pitcher Darvish Yu (20), who got the win in game 1, only gave up the one run and struck out 11, showing again why he is considered the best young hurler in the country. Journeyman power hitter Nakamura Norihiro, who had four RBIs in five games, was in tears as he was named Series MVP. After becoming one of the best hitters in Japan in the 1990s, he failed twice in attempts to make it in the Major Leagues and took a huge pay cut to play for the Dragons this season. It is his first ever Japan Series title.
The series was an exact reversal of last year, but this time the Dragons were on a roll having swept the Hanshin Tigers and the Yomiuri Giants in the first-ever Central League playoffs. It was third time lucky for manager Ochiai Hiromitsu, whose teams had fallen at the final hurdle in and 2006. Fighters coach Trey Hillman, who will lead the Kansas City Royals next season, said, "They outpitched us, they outhit us and they threw a perfect game at us and that's pretty good." He was philosophical about the last game of his five years in Japan, "This was a very rewarding experience for me," he said. "I like to think I'm a better person because of the time I've spent in this society."
• Talento couple Fujii Takashi (35) and Otoha (26) became proud parents on October 31. Married since July 2005, they announced the arrival of their baby girl to the media by fax yesterday. Also a mother for the first time is singer/songwriter Michiyo (28), who revealed on her website yesterday that she recently had a baby girl. She made her debut in 1997, produced by SharanQ, whose vocalist Tsunku is the man behind the Hello! Project.