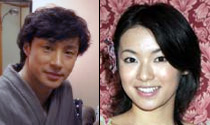 Not so happy news for former teen idol Higashiyama Noriyuki (41) and actress Uchiyama Rina (26), whose relationship of two and a half years has ended. Their romance began after they appeared together in a drama in 2005. Despite the 15-year age difference, their relationship was said to be serious and wasn't made public until January of this year. The decision to split up, which they made in early October, was due to their mutually hectic work schedules. Higashiyama is a member of the Johnny's Jimusho trio Shonentai, whose heyday was in the early 1980s, though now he works mostly on stage and the variety show circuit. Uchiyama made her TV drama debut in 1998, and has had several leading roles since 2005's period drama "Ooku – Hana no Ran". She will make her stage debut in Shakespeare's "King Lear", directed by Ninagawa Yukio, next year.
• Better news for another Rina, half-Russian model/actress Ohta Rina (19). She is dating actor Matsuda Ryuhei (24), eldest son of the late screen legend Matsuda Yusaku. In today's issue of weekly magazine "Flash", Matsuda says they have been dating for a few weeks. Romance has also bloomed between actor Moriyama Mirai (23) and actress Asami Rei (24). The pair appeared together in the stage show "Chi no Konrei" (Blood Wedding) in May and started dating during the summer.
• Comedian Hosshan (36) revealed yesterday that he got married in unusual style over the weekend. He made the announcement during a performance at the Yoshimoto Hall in Tokyo. He and his 31-year-old bride first met 13 years ago in Osaka and lived together for 10 years. They split up in 2005 and only got back together again this year. They had planned to register their marriage on November 18, but Hosshan said he got an email from her on Saturday night saying, "I've changed my name!"
• NHK has decided to make this year's Kohaku a boy's affair. For the first time in 51 years, both the red and white teams on the New Yaer's Eve "song battle" will have a male leader. Heading the red team for the fourth time is SMAP member Nakai Masahiro (35), while rakugoka Shoufukutei Tsurube (55) makes his debut as white team leader. The pair have teamed up before, co-hosting a private network talk show. But Tsurube also has a more embarrassing incident to make up for: Fuji TV's 27-hour telethon in 2003, a live broadcast during which he appeared drunk and exposed himself.
• Talento Asada Yoshimi (28) blogged yesterday's birth of her first child, a baby boy. The former member of pin-up duo Pirates updated her blog as her waters broke and then again an hour after the baby was born but while she was still on the delivery table. In the late 1990s Pirates – Asada and Nishimoto Haruka (29) – were best known for making full use of their cleavage and the catchphrase "dacchyuno!"