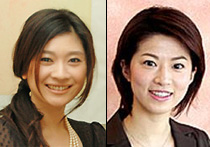 A couple of celebrity pregnancies were revealed yesterday. Popular actress Shinohara Ryoko (34, photo left) and her husband, stage actor Ichimura Masachika (58), are expecting their first child next spring. They've been married since December 2005. Shinohara said at a PR event back in early September that she had put on weight, in an effort to head off any questions about a possible pregnancy. As she was wearing high heels at the time, the media fell for her ruse. She has been in a couple of hits this year: the movie "Unfair" and the NTV drama series "Haken no Hinkaku".
Meanwhile, TV Asahi announcer Ishii Kiwa (29, photo right) is also four months pregnant. She married Shimada Toru, president of the Rakuten Eagles baseball team, in July and they held a wedding ceremony last month. Ishii quit her regular post on the "Yajiuma Plus" morning show in September and has since been making occasional appearances on other news shows. She says she plans to continue working after becoming a mother. Shimada is once-divorced and has a daughter from his first marriage.
• Fuji TV is making a drama version of the popular girl's manga "Hachimitsu to Kurobaa" (Honey and Clover). Already adapted as a hit anime and movie and known by the nickname "hachikuro", the series will air on Tuesday nights from January 8. The beautiful 15-year-old Narumi Riko has been selected to play the lead role of an art college freshman, while her love interest will be played by Johnny's Jr. member Ikuta Toma (23).
• Silly Award Update: talento Mika Mifune (25) was named the winner of this year's Best Hair Award yesterday. The prize, given by the All Japan Beauty Shop Owner's Federation, is awarded to the celebrity judged to have…well, the best hair. Mifune turned up for the award ceremony sporting the rockabilly, or "regent" hairstyle that her musician husband, Takahashi Joji (49), is famous for. She is the daughter of the late screen legend Mifune Toshiro.
• Comedian Hayakawa Nobuyuki (27), better known as Nobu of the comedy duo Chidori, is engaged to be married next spring. His fiancee is a 27-year-old Osaka resident and apparel company employee. The couple have been dating since they were in high school.