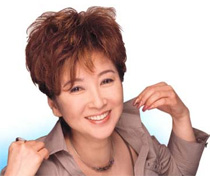 Japan-based Korean singer Kye Eun Sook (46) was arrested by Tokyo police on Monday evening for drug possession. According to reports, 0.6g of amphetamines, with a street value of about ¥15,000, and two glass pipes were found in the bedroom of the Minato Ward apartment she shares with her 85-year-old mother. She has admitted to regularly buying and using the drugs. Police had been investigating her for about three months following a tip off. Kye was born in Seoul and was a model before becoming a singer. She first came to Japan in 1984 and worked with songwriter Hama Keisuke (61), making her recording debut the following year. She had a series of hits and, starting in 1988, appeared on NHK's "Kohaku Uta Gassen" for seven straight years. She won the top prize at the Japan Record Awards in 1994. But she has had a string of troubles over the years. A keen gambler, she went in and out of debt several times, at one point amassing debts of more than ¥400 million. In 2001, the situation led her manager to commit suicide and Kye was out of work for long periods. In April 2006, she settled a court battle with her former management agency, and had been playing concerts across the country from this spring.
• For her tenth single, singer Ito Yuna (24) has recorded a duet with none other than Celine Dion (39). The pair recorded "Anata ga Iru Kagiri/A World to Believe In" and filmed a promo video last month in Las Vegas, where the Canadian diva now lives. The project came about after Ito took part in a tribute album to Dion which was released in September. Born in Los Angeles, raised in Hawaii, and with a Japanese father and Korean-American mother, Ito sings in English and Japanese but the latter is not her mother tongue. This and her strong ballad style are points she has in common with Dion, who suggested the collaboration. A mix of Japanese and English, the ballad will be released in Japan on January 16. Dion is scheduled to tour Japan in March.
• Popular young actress Aragaki Yui (19) has denied media reports that she is to take a 3-month break due to overwork. Some media sources had reported that she was taking the first three months of 2008 off to recover from exhaustion. But on her blog yesterday, she said she had no such plans. Though busy, the Okinawa native says her schedule is less than hectic and she is able to get enough rest. While she is regarded as one of Japan's most promising young actresses, she says that she may be working more on her music career in the future. Her debut album is due for release next week.