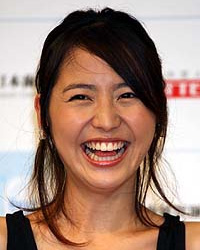 Silly Award Update: Chosen for their good-looking teeth this year were actress Nagasawa Masami (20) and actor Fujiki Naohito (35), who were named as "Best Smile of the Year" at a ceremony at the Imperial Hotel in Tokyo. The award is given every November 8 (11/8 can be read as "ii-ha," or "good teeth") by the Japan Dentists Federation. Comedian Ota Hikari (45) was one of eight famous people chosen for this year's "Mannenhitsu Best Coordinate" award, given to people who look best with a fountain pen! Actor Tanihara Shousuke (35) and actress Igawa Haruka (31) are this year's winners of the "Best Formalist" award, for looking good in formal wear. Tanihara used the event to announce that he became a father last month, when his wife Emi (29) had a baby girl. The couple, who married in March, also have a son from Emi's first marriage to actor Ishida Issei (32). Igawa denied rumors that she and designer Matsumoto Atou, who married last November, are expecting a baby.
• Someone who did have a baby was Fuji TV announcer Nishiyama Kikue (38), who gave birth to her first child, a girl, at a Tokyo hospital yesterday. She has been married to a fellow Fuji TV employee since 1997.
• Moving up in the popularity stakes are teen techno pop trio Perfume. On Wednesday night they played a show for 1,000 fans, their biggest audience yet, at the Liquid Room in Tokyo's Ebisu. The show was named "Seventh Heaven, Iikibun", a play on the 7-Eleven chainstore's catchphrase. The large turnout had member Aa-chan (18) in tears of happiness (and a runny nose!). The group's catchy single "Polyrhythm" entered the Oricon weekly chart at No.7. They've been featured on the 'serious' NHK show "Music Japan" and are considered candidates for an appearance on "Kohaku Uta Gassen" on New Year's Eve.
• I've never been a fan of actress Fukada Kyoko (25) but she does have staying power. She's been chosen to play the lead in next year's TV Asahi comedy "Mirai Kyoshi Meguru", making it 12 years in a row that she's appeared in a private network drama series. Starting with NTV's "FiVE" in 1995, she's appeared in a steady stream of TV series and movies, despite having the acting ability of a wooden plank. In the upcoming comedy series, she plays cram school English teacher Yoshida Meguru who, on a full stomach, can see the people around her as they'll be twenty years into the future.
• Suzuki Emi (22), a popular model in the teen fashion magazine world, is said to be two-timing. Today's issue of weekly gossip magazine "Friday" says he is seeing both young actor Shibuya Kento (19) and a 33-year-old entrepreneur. A nervous Suzuki dodged questions about her love life at a PR event yesterday.