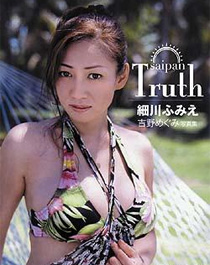 Anyone who was in Japan in the 1990s can't have missed the bountiful cleavage of Hosokawa Fumie (36). Known as the "ganso" or originator of that decade's trend to use busty women for a wide variety of PR purposes, "Fuumin" and her wide-eyed ingenue image were all over the media and the variety show circuit. Well past her heyday and long-since replaced by a long line of younger bathing-suited girls, she has decided to call it a day. Recently married, she has announced that her upcoming photo book release will be her showbiz swan song. "Saipan Truth", a return to her bathing suit roots, was shot on the Pacific island, where she and former real estate company owner Endoh Hisato (44) held a wedding ceremony back in April. The ceremony was said to be staged just for the book, particularly since Endoh was still married to his first wife at the time, but Hosokawa is said to have taken it "very seriously". Endoh's marriage finally ended in divorce in September, and he and Hosokawa registered their marriage in Tokyo on November 1. They are living together in the capital and Hosokawa is expecting a baby in January, but Endoh is currently on trial in Saipan. He is accused of kidnapping and assaulting a Japanese businessman back in August. With a first run of 20,000 copies, "Saipan Truth" goes on sale December 10. We can only hope that next year will bring some true happiness for Fuumin.
• Popular voice actor Yamadera Koichi (46) has been divorced since the spring of 2006, it was revealed yesterday. "Yama-chan", best known for the role of Ryoga Hibiki in the anime "Ranma 1/2", and voice actress Kanai Mika (43) had been married since 1994. Yamadera has also worked on several Disney projects and has dubbed for such Hollywood stars as Jim Carrey and Eddie Murphy. He became a household name in 2000 as host of the TV Tokyo kid's show "Oha-Suta". Kanai made her acting debut in 1989 and has also released eight albums as a singer. She and Yamadera worked together voicing characters on the Anpanman kid's anime. She is said to have kept their 4-storey house, while Yamadera lives in an apartment in Tokyo.
• A picture book is the latest spinoff in the "Zo no Senaka" boom. Translated as "The Elephant's Back", the 2006 novel by Akimoto Satoshi has been adapted into a hit movie, starring Yakusho Koji and Imai Miki, and an anime DVD. It tells of the final months of a middle-aged salaryman dying of lung cancer. The new book goes on sale December 5 and comes with a CD of tracks featuring whistler Kuchibue Tarou (41). Whistling is also enjoying something of a boom in Japan, since a Japanese university student won the Whistling World Championships in the U.S. in May. Next year's event will be held in Japan.