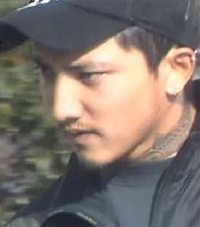 Former pop singer Goto Yuuki (21) has been re-arrested for robbery and assault. As the leader of a group of teenage thieves, he was arrested in October for stealing 48 coils of copper electrical wiring (worth about ¥470,000) from a Tokyo construction site in July. The latest arrest is for a similar robbery in September, in which a 57-year-old security guard was severely beaten. Goto is accused of threatening the guard with a steel pipe and saying "If you try to stop us, we'll kill you!" He has confessed to the crimes, saying he and his gang committed about 10 such robberies. Goto had a brief fling with a pop career in 2000 as one half of the duo EE Jump, but his underage drinking and clubbing brought it to an early end. He is the younger brother of former Morning Musume member Goto Maki (22), who quit the Hello! Project after the first arrest and is now trying to build a solo career.
• Young actress Fukuda Saki (17) has been named to the cast of the planned live-action "Yatterman" movie. Due for release in the spring of 2009, the movie is an adaptation of the hugely popular 1977-79 Fuji TV anime series. Filming is scheduled to start next March with Miike Takashi directing the project. Fukuda will play the role of heroine Ai-chan, also known as Yatterman No.2 and the girlfriend of Yatterman, to be portrayed by Sakurai Sho (25) of the Johnny's Jimusho pop group Arashi.
• NTV announcer Miyazaki Nobuko (28) was late for work again yesterday. She arrived on the set of the morning show "Rajikaru" about an hour late, apologizing for having overslept. It's the second time she's been late for the show. Fellow announcer Furuichi Sachiko (34), a presenter on the "Zoom In Super" show, had to cover for her.