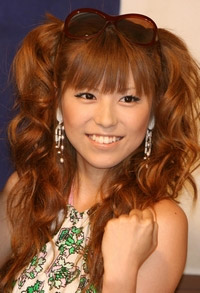 Popular talento Wakatsuki Chinatsu (23) has taken a time out from her website, Japan's most popular celebrity blog. Prone to revealing more than her management would like, such as how she was penalized for taking off on a backpacking trip to Thailand in May without telling anyone, or the drunken birthday celebrations of her friend, model Higashibara Aki (25), she says her head is a bit messed up right now and she can't write. Her "Maaboudoufu wa Nomimono Desu" blog is the most popular on the major Ameba hosting service. Yesterday's entry received over 1,000 comments from worried fans. Wakatsuki has a history of stress-related health problems and had to take two months off work at the end of last year.
• The latest single from Johnny's group KAT-TUN has come storming out of the gate. With initial sales of 350,000, "Keep the Faith" is the fastest selling single of the year, and naturally shot to No.1 on the Oricon chart. The group has seen all of its first five singles break the 300,000 mark on release, making them only the second group to pull it off. Fellow Johnny's group Kinki Kids reached that mark almost nine years ago.
• Former Morning Musume member Tsuji Nozomi (20) is now a mother. Husband Sugiura Taiyo (26) was by her side as she gave birth to a baby girl at a Tokyo hospital yesterday. Taking a kanji from Tsuji's given name, they named the baby Noa. Tsuji is the first active member of the Hello! Project ensemble to become a mother (others have married and had babies after leaving the group) but no plans for her return to work have been announced. Producer Tsunku (39) congratulated Tsuji on his blog, adding that as it's a baby girl, she's already earmarked as a future MoMusu cadet. Sugiura, an actor, and Tsuji were criticized in the media for the timing of their wedding and pregnancy announcements earlier in the year.
• Expecting a second child next March is comedian Tamura Ryo (35), the blonde half of duo London Boots. He announced the news on a live NTV variety show last night. He and his wife Arisa married in June 2003 and had a baby boy the following September.