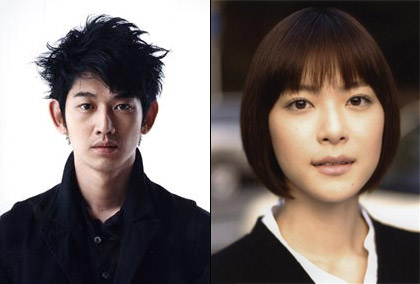 Actor Eita (27) and actress Ueno Juri (23) are to co-star in the first major-network "Twitter drama," it was revealed yesterday. Fuji TV's "Sunao ni Narenakute," which will air on Wednesday nights from April, is the story of five men and women who meet through the social networking and microblogging service. Between movies and TV dramas, it is the eighth time for Eita and Ueno to work together. They are being referred to as the "Heisei no ougon kappuru," the golden couple of the Heisei era. Their last collaboration was 2008's spring-season drama "Last Friends," also on Fuji, which covered serious topics like domestic violence and transgender issues. The new series is based in the Tokyo youth mecca of Shibuya and has a somewhat softer edge. It was written by Kitagawa Eriko (48) and is her first series for Fuji since 2002's "Sora Kara Oriru Ichioku no Hoshi."
Eita's character finds himself questioning his dream of following in the footsteps of his war photographer father as he understands the trauma caused by the job. And Ueno plays the role of a part-time teacher at a private high school who is frustrated by her own immaturity. Though not a direct translation, the title of the drama is the also the Japanese title of Chicago's 1982 hit "Hard to Say I'm Sorry."
Record Breaking Toho Shinki
Korean dance vocal group Toho Shinki finally have a No.1 album in Japan. Not only that but the 413,000 initial sales figure announced for "Best Selection 2010" is a new record for an overseas artist, beating the 379,000 of Bon Jovi's 1995 release "These Days." The Korean quintet put out their first hits collection five years after they debuted in Japan. During that time they have had a series of major hit singles and sold out concerts, so it's a bit of a surprise that it's taken this long to become the first Asian male artists to top the Oricon album chart. The group will appear on Fuji TV's "Music Fair" on Saturday and have a DVD and a new single ("Toki wo Tomete") coming out in March.
Meanwhile, on top of the Oricon singles chart are J-pop idol group AKB48. The initial sales of 318,000 copies of "Sakura no Shiori" marks the first time a female group has broken the 300,000 barrier since Morning Musume's "Mr. Moonlight – Ai no Big Band" in 2001.
Itoh Sakiko Remarried
Singer Itoh Sakiko (51) recently remarried, it was revealed yesterday. She and a company employee in his late 40s tied the knot earlier this month. Itoh retired from showbiz after she married an businessman in 1989. But she returned to work in 2004 and the marriage ended in 2007.