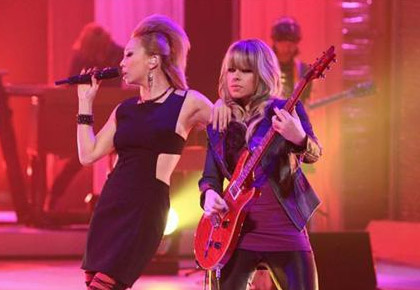 The late Michael Jackson's female lead guitarist has filmed her first appearance on a Japanese music show. The February 6 edition of Fuji TV's "Music Fair" will feature Australian guitarist Orianthi Panagaris (25), who has been in the spotlight since her rehearsals with Jackson for his "This Is It" comeback show. She teamed up with J-pop diva Koda Kumi (27) for a performance of her hit "Ningyohime." It was the first time for Orianthi to perform with a Japanese female artist. She visited Japan last week to promote her debut album "Believe" as well as the release of Jackson's posthumous movie.
Exile Add to Awards Haul
14-member dance-vocal unit Exile were awarded the Best Artist prize at the inaugural Billboard Japan Music Awards in Tokyo yesterday. The winners were selected by the public from all the artists who had No.1s on the Billboard Japan weekly charts between December 2008 and November 2009. Exile leader Hiro (40, photo left) was at the ceremony to pick up the group's sixth award of the year (they won 16 during 2009). Other artists taking home awards included singer Ai (28, photo center), male duo Kobukuro, and the band Remioromen.
The Next KimuTaku?
Rikkyo University sophomore Ohno Takuro (21, photo right) took a big step toward stardom yesterday. He was chosen as the winner of the "CampuStar" in a talent scouting event organized by the major Hori Pro management agency and Men's Non-No magazine. Hori Pro are celebrating their 50th anniversary this year so they will be putting all their firepower behind Ohno. The runaway winner of the pageant, taking 5 of the 7 categories, when he was asked who is said to look like, he answered "a young Kimura Takuya." Those looks helped him win similar contests in each year of high school, and he now looks set to follow in the footsteps of other Hori Pro actors like Tsumabuki Satoshi (29), Fujiwara Tatsuya (27) and Matsuyama Kenichi (24). He will land a part in the agency's special movie project, "Inshitemiru," and grace the cover of Men's Non-No. There was no mention of whether he would continue his studies and pursue his original aim of becoming a physiotherapist.