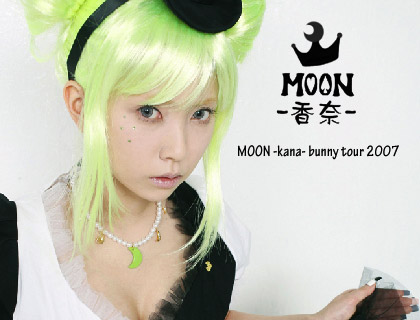 (A reader sent this in so we're posting it) If you're in Los Angeles this spring and want to get a serious dose of Japanese kawaii, then you should check out Moon Kana. She'll be making three night-time appearances in L.A. on April 1-2 along with special guest DJ SiSeN. She doesn't seem to have released any new material since the album "Tsuki no Usagi" in July 2007.
She started out as a teen model for the "Gothic & Lolita Bible" magazine using the name Kana, and began her music career as singer for the electronica band Starblues in 1996. She later went on to release four solo albums. Though now 28, in her style and music she simply oozes cute – whether that's a good or bad thing is in the eye of the beholder. Her style is a mix of Goth Lolita and straightahead kawaii, rounded out with blonde/green hair and stuffed bunnies.
For more details of her Moon Kana's music and live appearances, check out her blog.
Nishikido Ryo is the Pudding Samurai
Johnny's Jimusho idol Nishikido Ryo (25) has landed his first movie starring role in a project clearly aimed at the female segment of the market. Filming will start this weekend for "Chonmage Purin," a comedy drama about a samurai who finds himself in modern Japan and, naturally, ends up becoming a hugely popular pastry chef. Chonmage is the name for the samurai's distinctive hairstyle, while purin is the Japanese pronunciation of pudding. Directed by the highly regarded Nakamura Yoshihiro (39), the movie co-stars Tomosaka Rie (30). Nishikido, a member of the Johnny's group NEWS, made the news for a different reason in March 2009 when he caused a minor traffic accident.
Earlier story:
Nishikido Ryo Makes an Impact (Mar 3, 2009)
Matsumoto Jun on the Skids
And funnily enough, another Johnny's star has just caused a similar accident. Matsumoto Jun (26) of the group Arashi ran into the back of another car while stopping for a red light in Tokyo shortly after 11pm on Monday night. There were no injuries and minor damage to both cars. MatsuJun may escape serous reprimand as some of the blame can be put on the snow that suddenly enveloped the capital late that night.
And about half an hour later Barcelona Olympic medal-winning gymnast Iketani Yukio (39) was the victim of a hit and run, also in Tokyo. He was hit from behind while stopped at a light shortly before midnight and, while he was calling the police, the driver of the other car sped away. Iketani suffered some minor bruises to his neck.