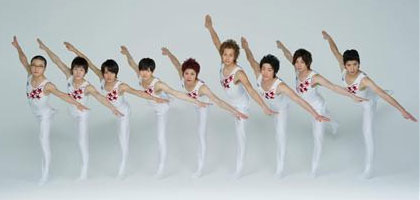 Men's rhythmic gymnastics may just be the next big thing in Japan. At least, TBS will be hoping their upcoming drama series about the minority sport will get people talking. Starring actor Yamamoto Yusuke (22, photo below) in his first lead role in a series, "Tumbling" will air during the spring season from April. He plays a high school student who joins the gymnastics club to get close to a new girl in the school. Yamamoto made his acting debut in 2006 as the masked bike-riding hero Kamen Rider Sasword. He landed some choice roles in 2007 and the following year saw him ranked No.1 in an Oricon poll of up-and-coming actors. He has been in training for his latest role since last autumn and, though producers had originally planned to use a stunt double, he does all the back flips and other tumbling routines himself.
Men's rhythmic gymnastics originated in Japan, but there are thought to be only about 1,000 athletes active in the sport in the whole country. Several of them appeared in a TV commercial for Calpis Soda last year, which drew attention to the sport and sowed the seeds for the drama series. Organizers will be hoping for the kind of exposure enjoyed by men's synchronized swimming on the back of the hugely popular 2001 movie "Waterboys." The movie a follow-up Fuji TV drama series helped establish the careers of Tsumabuki Sataoshi (29) and Tamaki Hiroshi (30).
Showbiz Babies
There were a couple of stories this week of celebrities and babies. Comedian Horiuchi Ken of the trio Neptune became a father for the first time this week when his wife gave birth to a baby girl. He appeared on the live variety show "Waratte Iitomo" on Monday afternoon but managed to get to the hospital in time for the delivery.
And talento Yinling of Joytoy announced on her blog this week that she's expecting a baby in the autumn. She married a former member of the Hustle pro wrestling troupe in 2008.