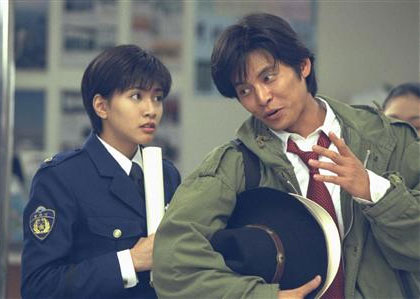 There were some cast announcements yesterday for this summer's highly anticipated movie sequel "Odoru Daisosasen 3" (Bayside Shakedown 3). Actress Uchida Yuki (34) will reprise the police officer role she last played in the original TV series in 1998 (photo). Uchida is recently enjoying a resurgence in her career, which was put on hold following her marriage to actor and "Kita no Kuni Kara" co-star Yoshioka Hidetaka in 2002. The couple split in 2005. She returned to the big screen in 2007, appearing in Kitano Takeshi's "Kantoku Banzai!" (Glory to the Filmmaker!).
Actor Ito Atsushi (26) will be introduced to the cast as the nephew of the late veteran detective Waku Heihachiro. Waku was played in the first two movies by comedian Ikariya Chosuke, who died in 2004. Main character Aoshima Shunsaku, played by Oda Yuji (42), has been promoted to section chief and will have three new subordinates: regular cast member Komoto Masahiro (44), newly transferred to the armed robbery section, and newcomers Kawano Naoki (27) and Takito Kenichi (33).
The latest in the most commercially successful movie series of all time, Odoru3 is scheduled for release on July 3.
Ishida, Higashio Announce Wedding Date
Actor Ishida Junichi (56) has finally put a time and place on his wedding to pro golfer Higashio Riko (34). Appearing at a PR event in Tokyo yesterday, he said the couple will hold their wedding reception at the Imperial Hotel in the center of the capital on July 12. The date – a Monday with no pro baseball games – was chosen to accommodate the bride's father Higashio Osamu (59), the former Seibu Lions manager who is now a commentator. The reception is expected to cost about ¥10 million and be attended by around 300 people.

Earlier stories:
Junichi, Riko Take "Pre-Honeymoon" (Jan. 5, 2010)
Another Marriage for Japan's Premier Playboy? (Jul. 15, 2009)
Dempa Shonen Lives On
A classic 90s NTV show may soon be enjoying something of a revival. "Susume Dempa Shonen" is to be released on DVD for the first time, and a TV special is scheduled for March. The show was a reality TV pioneer in many ways during its 1992-98 run. It featured "guerrilla" stunts like interviews with Palestinian leader Yasser Arafat, taking a dump in the toilets of various showbiz stars, and the trans-Asia hitch-hiking trip that made overnight stars of young comedy duo Saruganseki.