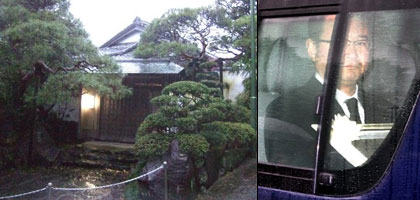 Actor Funakoshi Eiichiro (49, photo right) is continuing his work despite the suicide of his younger sister. It was revealed yesterday that Hirano Yoko (47) hung herself on February 7 at the ryokan inn that she formerly ran in the onsen (hot spring) resort of Yugawara in Kanagawa Prefecture. She closed the Ryoso Funakoshi inn (photo left) last October, citing health problems. It's now known that she suffered from clinical depression for the last nine years or more. She and her brother were born into a showbiz family in Tokyo, but they moved to Yugawara for the clean air as Eiichiro suffered from asthma as a child. Though small, with only six guest rooms, the inn they opened was popular and enjoyed a good reputation. Hirano took over the family business so that her elder brother could follow in his parents' footsteps. She was head of the local innkeepers association, but is said to have suffered a lot of stress from the responsibility of her work.
Funakoshi was in Kyoto filming the latest TV drama adaptation of the works of novelist Matsumoto Seichou when he heard the news. He joined his wife, actress Matsui Kazuyo (52), in Atami City for Wednesday's funeral before heading back to work in Kyoto. Between them, the couple have had their share of ups and downs, but Funakoshi is considered the consummate professional and is referred to as the "emperor" of the 2-hour TV drama format.
You The Rock Busted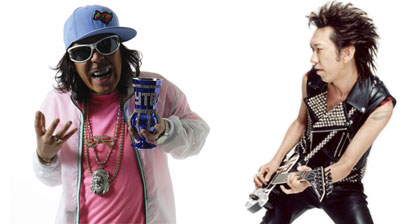 Rap/hip hop musician You The Rock (38, photo left) was arrested by Kawasaki police at his home on Wednesday for possession of marijuana. In what was probably a related incident, he was questioned by police last September. With his Ali G-like persona, You-chan became popular on late-night TV in the late 1990s. He is married to former pin-up girl Midorikawa Noriko (28).
Hotei Cancels Shows Due to Hand Injury
Musician Hotei Tomoyasu (48, photo right, profile) has postponed the first two shows of his upcoming national concert tour due to a serious hand injury. One of Japan's best known guitarists, the 6'4″ former Boowy axeman is said to require a month's rest and several weeks of rehabilitation for the injury to his left hand and elbow. In the meantime, shows at Zepp Fukuoka (Feb. 14) and Zepp Tokyo (Feb. 18) have been put on hold.
Solo Comedy Gets Live Airtime
The "R-1 Grand Prix 2010" contest for solo comedians is to be broadcast live on Fuji TV on February 23. The eight finalists were announced yesterday, with one more to be selected from among the losing semi-finalists on February 21. As an indication of the ongoing popularity of TV comedy, even that playoff will be shown live. The event is in its eighth year, with the number of contestants growing annually to this year's 3,539. Among the eight finalists is two-time (2007-08) winner Nadagi Takeshi.