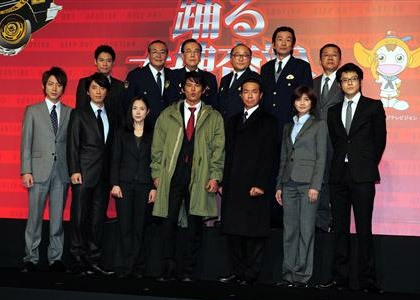 The hype buildup continues for the blockbuster movie of the summer. At a PR event at the Fuji TV headquarters in Tokyo yesterday, director Motohiro Katsuyuki and the cast of "Odoru Daisosasen The Movie 3" were on hand to talk up the project. Almost all the regular cast members are back, with Oda Yuji again in the staring role, supported by Yanagiba Toshiro, Fukatsu Eri, Yusuke Santamaria, and Mizuno Miki. Ikariya Chosuke passed away in 2004 but Itoh Atsushi has been added to the cast to play his character's nephew. The other major additions are Oguri Shun, as an elite bureaucrat, and Uchida Yuki, in a revival of the role she played in the original TV series.
Oda said yesterday that the movie's themes are "nakama" (friends, colleagues) and "ikiru" (to live) and that audiences would leave theaters feeling good. Asked to reveal details of the plot, he simply said "blood will flow." The only other veil lifted from the project was its subtitle, "Yatsura wo Kaihoseyo!" (Set Them Free!). Filming started at the beginning of the year and is currently about two-thirds complete. The movie will be in theaters from July 3.
Odoru3 is the second sequel in the most successful live-action film franchise in Japanese movie history. The first movie in 1998 took in ¥10.1 billion at the box office, while the 2003 follow-up made ¥17.3 billion, still the highest gross of any Japanese live-action movie. A couple of spinoff movies have filled in the gap and done reasonably well commercially over the last seven years. Odoru3 will acknowledge the time elapsed since the last movie, with Oda's renegade detective character Aoshima Shunsaku newly promoted to section chief.
Abe Koji is Top of the Heap

Abe Koji (35) has made it at last to the top of the comedy world. Last night he was named the winner of the "R-1 Grand Prix," an annual contest to pick the country's best solo comedian. It was Abe's seventh time to enter the contest and sixth time to make the last knockout round, and he was in tears when he finally came out on top of a record 3,539 contestants. He took home the prize money of ¥5 million, but perhaps more importantly the win will give his career a big boost. In a final where everyone else performed skits, Abe stuck with his plan to perform a monologue. After the win he said, "At long last I've graduated R-1. I don't want to fight any more!" He added that he'd like to try his hand at music or acting in an afternoon soap opera.
Violin Beauty to Join News Zero
With presenter Kobayashi Mao (27) leaving to marry kabuki star Ichikawa Ebizo (32), NTV yesterday announced a new addition to its "News Zero" lineup. Taking Mao-chan's place as presenter of a weekly culture corner is violinist Miyamoto Emilee (26). Though born in Tokyo, she grew up moving back and forth between Japan and Germany. She picked up the violin while in Japan at the age of seven and went on to study music in high school and university. She joined a classical quartet Vanilla Mood in 2003 and released her debut album in 2007. Her music has been featured in commercials, TV shows and movies, and she made an appearance on last year's "Kohaku Uta Gassen" on NHK. Though she has a show on the J-Wave radio station, News Zero will be her first gig as a TV presenter.
Ishida, Higashio Already Hitched
The upcoming California wedding of actor Ishida Junichi (56) and pro golfer Higashio Riko (34) has received plenty of media attention. But it was revealed yesterday that the couple have already married. They registered their marriage on December 12, an auspicious "taian" day on the traditional Japanese calendar, and are living together in Tokyo. They will hold their wedding ceremony at a Napa Valley winery on June 8 and a reception at the Imperial Hotel in Tokyo on July 12. Higashio used her maiden name when registering for next week's Daikin Orchid Ladies tournament in Okinawa.