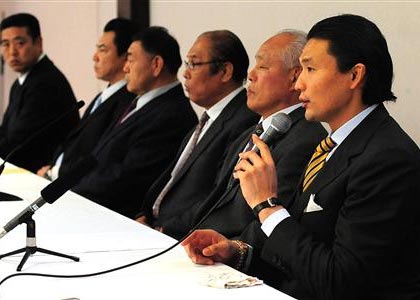 Yesterday was a momentous and sad day for fans of sumo. As former yokozuna (grand champion) Takanohana (37, photo right) was formally announced as the youngest ever board member of the Japan Sumo Association, Mongolian yokozuna Asashoryu (29) shocked the country by announcing his retirement.
Though one of the great sumo wrestlers of the modern age, Takanohana (real name Hanada Koji) is something of a renegade within the Sumo Association and caused a big commotion when he put himself forward for election to the board last month. Members are usually pre-selected behind closed doors and posts are given depending on seniority and connections. Takanohana's candidacy meant there had to be an election, and he ended up ousting a 62-year-old incumbent. He has promised to bring a message of reform to the rigid and traditional sport. Unfortunately one of his first tasks as a board member was ending the career of a fellow yokozuna.
Asashoryu (photo left) has always been something of a renegade himself. One of many wrestlers brought in from overseas to inject new life into a sport in decline, his rise to the very top along with countryman Hakuho has irked some sumo purists – there hasn't been a Japanese yokozuna since the 2003 retirement of none other than Takanohana. But worse than that, Asashoryu has repeatedly shown his all-too-human face and behaved in ways not considered fitting for a yokozuna. Most recently he was investigated for allegedly assaulting a man after a bout of heavy drinking. He was reportedly given an ultimatum by his sumo elders – retire voluntarily or be the first ever yokozuna to be dismissed and lose his considerable retirement money. A tearful Asashoryu and his stablemaster then gave a press conference to announce his retirement. He recently won his 25th tournament at the top level, the third highest total in sumo history.