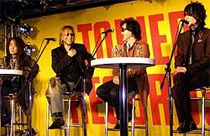 Fans of the legendary X Japan got more details of the rock band's long-awaited comeback yesterday. The four surviving members of the band attended two events in Tokyo, with a visibly jet-lagged Yoshiki (42) having flown in Saturday from his home in L.A. "This is an important announcement and I wanted to make it in person," he said. The first event was a press conference at the Apple Store. Their new single "I.V.", which appears on the soundtrack of the horror movie "Saw4" and features the late guitarist hide (1964-98), will be released worldwide on iTunes on January 23.
But the big news that fans were waiting for was about their upcoming concerts. The band announced two shows on March 28 & 30 at Tokyo Dome, the venue for their farewell concert at the end of 1997, and an extra show at Ajinomoto Stadium on May 3. May 2 marks ten years since hide's death and the band plan to have his guitar on stage for the shows. There is also a plan for Luna Sea's guitarist Sugizo to play hide's parts, as the band was discovered by the X Japan axeman. The Dome concerts are titled "Kougeki Saikai 2008 I.V. – Hametsu ni Mukatte", which roughly translates as "Resume Attack 2008 I.V. – Facing Destruction". The first show will be called "Hakai no Yoru" (Destruction Night), and the second "Souzou no Yoru" (Creation Night). Yoshiki said, "Though I say it myself, the return of X Japan is a miracle, something I never thought would happen. But I don't want it to be like a school reunion. I want to play a tense and dangerous concert."
During the evening event, held at Shibuya's Tower Records, they recorded a radio show to be broadcast on FM Fuji on February 11. Yoshiki and vocalist Toshi (42) talked about going to karaoke together, perhaps in an effort to dispel rumors of animosity between them.
• Japan's candidate for a best foreign movie Academy Award failed to make the short list for a nomination. "Soredemo Boku wa Yattenai", Suo Masayuki's attack on his country's legal system and his first feature in 11 years, was aiming to be just the second Japanese film nominated in the category in the last ten years. Yamada Yoji's "Tasogare Seibei" (Twilight Samurai) got the nod in 2004.