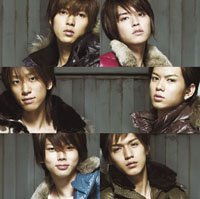 Johnnys Jimusho idol group NEWS played their first solo Tokyo Dome concert in front of 55,000 fans yesterday. The show featured the group arriving on stage from the 30m-high ceiling in a gondola; a fountain that measured 50m wide, 8m tall and used 50 tons of water; and a surprise appearance from their "sempai" Kondo Masahiko (43) and Question?, his backing band made up of members from Johnnys Jr. The first of two shows, it was the first time for a Johnnys concert to be held at Tokyo Dome on a weekday. The shows were added to the schedule for their NEWS Pacific Winter Tour due to popular demand. The group performed 35 songs, including the latest single "Weeeek" and the first live version of "Taiyo no Namida", from their second album "Pacific" and due for release on February 27. The group are back in top gear after the loss of two members punished for underage drinking: Uchi Hiroki (21) in July 2005 and Kusano Hironori (19) a year ago. Having started out with nine mebers in 2003, they are now down to six. The youngest two, Tegoshi Yuya and Kato Shigeaki turned 20 last year and will be celebrating their coming of age this month. Kondo is in the 28th year of his career but this was the first time for him to appear as a surprise guest for a junior group. He performed his latest single, "Mezamero! Yasei", which is released later this month.
• "Kaabee", the latest movie from director Yamada Yoji (76) is to be entered for competition at the 58th Berlin International Film Festival. Starring Yoshinaga Sayuri (62), the movie will be shown abroad as "Kabei – Our Mother". Set in 1940, it tells of a woman raising her two children while awaiting the return of her imprisoned anti-war husband. Yoshinaga, a hugely popular veteran actress who is considered an iconic Japanese mother figure, will be visiting the festival for the first time in 15 years. It will be Yamada's sixth entry at the festival, but he has failed to win a prize with his three competition entries: "Downtown Heroes" (1989), "Tasogare Seibei" (Twilight Samurai, 2003), "Kakushi-ken: Oni no Tsume" (The Hidden Blade, 2005). This year's festival will be held from February 7-17.
• American rock band Bon Jovi landed at Narita Airport yesterday for their 14th Japan concert tour. Flying in on three separate American Airlines flights, they were greeted by about 100 fans. The band play Nagoya Dome on January 11 before heading to Tokyo Dome for two shows (Jan. 13 & 14) and finally Kyocera Dome Osaka (Jan. 16).
• Talento Wakatsuki Chinatsu (23) seems to be constantly fighting off rumors. The latest is that she is planning to head off and spend an unspecified length of time traveling the U.S. She sent a fax to the media yesterday denying the rumor. She says that next month she plans to launch a new online store selling vintage clothing, and is going to the U.S. simply to buy items for the website. Wakatsuki is the author of Japan's most popular celebrity blog.