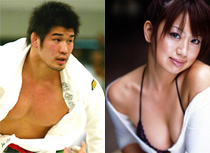 Olympic judo gold medallist Inoue Kosei (29) and talento Higashihara Aki (25) held a press conference today to announce their marriage. Their engagement was announced to the media yesterday and they filed their marriage registration this morning. They then appeared before the press at Inoue's alma mater, Tokai University. Inoue became a national hero when he won the gold medal in the 100-kilo weight class at the 2000 Sydney Olympics. As 3-time and reigning world champion, his quarter-final defeat in Athens four years later came as a huge shock to fans in Japan. He and Higashihara started dating not long after, having met on a TV show. Last year, Inoue failed to clinch a spot for this summer's Beijing Olympics but will be hoping to make the national team with the support of his new bride. To do that, he needs to win the national championships in April. Higashihara, who made her debut in 2003 as a poster girl for Asahi Beer, made her name as an announcer with Fuji TV for its coverage of K-1 events. More recently, she has been a presenter on the horse racing show "Umanade".
• Hip hop musician Kreva (31) recently got married, it was revealed yesterday. He got hitched on January 3 to a 32-year-old office worker after a relationship of more than four years. They have already held their wedding ceremony. Originally a member of the group Kick the Can Crew, in 2006 Kreva became the first solo hip hop artist to reach No.1 on the Oricon chart. His met his new bride when she was working as secretary to the president of a concert and event company.
• Some more cast announcements for the live-action adapatation of popular 70s anime "Yatterman". With the lead stars already named, the roles of the main villains fell to: Fukuda Kyoko (25) as the sexy and scantily clad Doronjo, Namase Katsuhisa (47) as the effeminate tech wizard Boyacky, and Yoshimoto comedian Kendo Kobayashi (35) using his Kansai dialect in the role of Tonzler. The movie, to be directed by Miike Takashi, is due for release in the spring of 2009. A new version of the anime started yesterday on the NTV and Yomiuri TV networks.
• Popular fashion model Hasegawa Jun (21) and Maki Daisuke (32), a member of top J-pop group Exile, have broken up. Maki, known by his nickname MakiDai, will be appearing in NHK's morning drama series "Hitomi" from March.