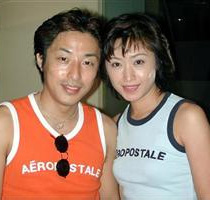 Recently divorced actress Mihara Junko (43, photo right) just got back from a trip to Australia with a former band-mate of her ex-husband, according to today's issue of weekly magazine "Friday". The article published photos of the two at Narita Airport on their arrival back from Cairns, and speculated that they are planning to get married. A former top idol singer, Mihara married a racing driver in 1990, but they split in mid-1999. Within six months, she was married to comedian Koala (38, photo left), who later followed the advice of fortune teller Hosoki Kazuko and changed his stage name to Happy Happy. That marriage ended last year, and both parties insisted on telling their side of the story on TV variety shows. In both her marriages, Mihara got pregnant but suffered miscarriages. Her newest partner is musician Satoshi (32), who was in the band Edo Fish with Koala in 2003. Mihara's agency say he is just one of several boyfriends she's had since her divorce.
• Actor Nishimura Kazuhiko (31) and calligrapher Kunishige Tomomi (29) became parents for the first time yesterday. Nishimura announced the arrival of his baby boy on his blog.
• British actor Jude Law (35) was in central Tokyo yesterday for a party to commemorate the recent opening of an Alfred Dunhill store. Also at the party was kabuki star Nakamura Shido (34), who refused to answer questions about his ongoing divorce from popular actress Takeuchi Yuko (27).
• Just out of hospital after surgery for a compression fracture to a lumbar vertebrae, veteran actor Ogata Ken returned to work yesterday. He took part in the Japanese dubbing of the Hollywood movie "The Golden Compass", in which he took on Ian McKellen's role as the voice of Lorek the Ice Bear. Other cast members include newcomer Nishiuchi Mariya (14), Narumi Riko (15) and Yamaguchi Tomoko (43).
• A joint concert tour by U.S. bands Chicago and Huey Lewis & the News was announced yesterday. Chicago will be making their 11th visit and the first since 2003, while Lewis hasn't played in Japan since 1998. Both artists of course had their heydays well before that, with most hits dating back over 20 years. Between April 14 and 22 they will roll back the years with shows in Hiroshima, Osaka, Nagoya, Tokyo and Yokohama. Tickets go on sale February 16 from Udo Music.