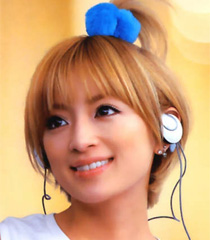 Not a good start to the year for Hamasaki Ayumi (29). The singer revealed on her official fan club website at the weekend that she has lost the hearing in her left ear. She says doctors told her last year that it was too late for surgical treatment of a problem that dates back almost to the beginning of her career. In 2000 it caused her to postpone part of a national concert tour. With this year marking the tenth anniversary of her debut, she remains upbeat and says she will continue singing as long as she can hear in her right ear. She just released her latest album "Guilty" on New Year's Day and has a 19-show concert tour starting in early April. The bad news came shortly after her ex-boyfriend, Tokio member Nagase Tomoya (28), was romantically linked with up-and-coming young actress Aibu Saki (22). Ayu and Nagase ended their 7-year relationship just last July.
• Last year's live-action adaptation of the popular Mizuki Shigeru manga "Gegege no Kitaro" made over ¥2.3billion at the box office, so it's no surprise that a sequel has been announced. Young idol Wentz Eiji (22) will again play the lead role of monster-boy Kitaro. Actress Inoue Mao (20) won't be back as the heroine, but the rest of the supporting cast return, with the addition of such top stars as Ogata Ken (70), Terajima Shinobu (35) and Sano Shiro (52) taking on ghoulish roles. Motoki Katsuhide (44) is again directing and the movie is due for a summer release.
• NHK's yearlong taiga drama kicked off on Sunday, with about average audience interest. "Atsu Hime", with young actress Miyazaki Aoi (22) in the title role, drew an audience of 20.3% for its opening episode. The historical drama tells of a young girl from Kagoshima who joins the Edo Period court of the Tokugawa shogunate. Miyazaki joined about 5,000 people on Sunday for the opening of a tie-up exhibition at a trade facility in Kagoshima City.