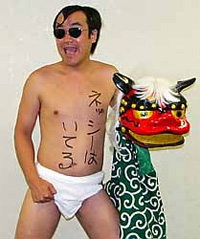 Yoshimoto comedian Tamura Kenji (34) was involved in a minor scuffle while filming in Osaka on Tuesday. TamuKen, as he is known to fans, and a crew of four were filming an interview in a shopping street when a 64-year-old male passerby got into an argument with one of the staff members. Tamura stepped in and got a kick for his trouble. After the police got involved, the man apologized to Tamura and no charges were pressed. With his trademark hairstyle, sunglasses, loincloth and shishimai lion, Tamura is one of the more visible comedians to have made a breakthrough in the last couple of years. He also owns a pair of successful yakiniku restaurants in Osaka and often talks of giving up showbiz to run the business full time.
• Another Yoshimoto comedian, Downtown's Matsumoto Hitoshi (44), is back at work after taking time off to recover from illness. He came down with a fever and lung infection earlier this month and missed the January 13 recording of an episode of Fuji TV's "Hey! Hey! Hey! Music Champ". But he was back on his feet yesterday to record an episode of the long-running "Gaki no Tsukai ya Arahende!!"
• Talento Yamada Mariya (27) admitted on her blog that she and stage actor Kusano Touru (40) are planning to get married next month. The two started dating after they appeared together in a theatrical production, and their romance was first reported last August.