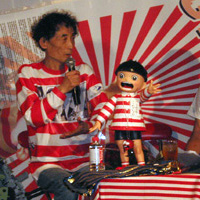 Eccentric manga artist (aren't they all?!) Umezu Kazuo (71) is having a hard time realizing his dream house project. Famous for always wearing red and white stripes, he wants to build his new house in the Tokyo suburb of Kichijoji in the same style. Not only that, but with a design that incorporates a likeness of Makoto-chan, one of his most famous characters. His new neighbors in the residential area have been up in arms, though they failed in an earlier legal attempt to have the project cancelled. Construction went ahead as planned but now two neighbors have appealed to the Tokyo District Court to stop the house being painted in red and white.
• Actress Kikuchi Maiko (33) revealed on her blog this week that she is expecting her first child next spring. She married a 39-year-old businessman in July. She made her name as the heroine of the NHK morning drama series "Futarikko" in 1996. Her co-star, Iwasaki Hiromi (30), married last April and is expecting her first child in December.
• Globe vocalist Keiko (35), the wife of producer/musician Komuro Tetsuya (48), announced her new solo project set to begin early next year. She will use the stage name KCO, both as a singer and a TV personality. Part of the new image is to chnage her dyed blonde hair her to brown. Her first single as KCO, "Snow Story" goes on sale on January 23. Not surprisingly it's produced by hubby Komuro.
• Shogo(27), vocalist of rock band 175R, already has a new woman in his life, according to this week's issue of women's weekly "Josei Seven". Shogo and former Speed member Imai Eriko (24) divorced only a month ago but had been separated since the spring. And it seems that Shogo lost no time dating pin-up idol Kosaka Yuka and they have shared apartment keys for several months.