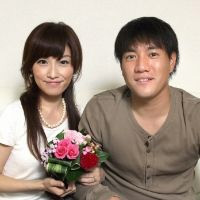 The latest big sports-showbiz couple are Yomiuri Giants pitcher Hayashi Masanori (24) and TV Tokyo announcer Kamei Kyoko (25), who announced yesterday that they plan to marry before the end of the year. The couple have been dating for about 15 months. The Giants recently clinched their first Central League pennant in five years. Hayashi said he wanted to make the announcement before the Giants get into final preparations to face the winner of the 2nd-3rd place playoff in the Climax Series from October 18. Hayashi was a starter in his second season in 2002, but was switched to middle relief the following year. Kamei joined TV Tokyo in 2005.
• Actress Mihara Junko (43) revealed yesterday that she and talento Happy Happy (38) have finally divorced. Though the couple appeared regularly on TV as an ideal couple after their 1999 marriage, rumors of a split had been circulating for several years. Mihara says her husband's affairs had been their undoing and that despite their efforts to patch things up, they finally filed for divorce on October 6. The revelation was made on the TBS variety show "Kin-Sma", hosted by SMAP leader Nakai Masahiro, and will be broadcast tonight.
• Another revelation to be broadcast tonight is that actress Hamada Noriko (42) has been married for the last six years. She is scheduled to make a live appearance on the NTV show "Rajikaru". She made her debut in 1984 as one of four girls selected to star in the hugely hyped movie "The Audition" and spin-off group Saint Four. The group split in 1988 and Hamada became an obscure stage and B-movie actress. She released a book of nude photos in 2000.
• Dance unit TRF have postponed two dates in the 15th anniversary tour as member Etsu (43) has been hospitalized with bronchitis. The shows in Fukuoka and Osaka have been rescheduled for December.
• Comedy duo Cream Stew revealed yesterday that they recently made their U.S. TV debut. The pair appeared for all of 4.4 seconds in an August episode of the popular drama series "4400". In episode 43 of season four, titled "Ghost in the Machine", they played a pair of National Security Agency staff members, but had no lines. The series won't be available for rental in Japan until next year. The duo claim they are aiming to have speaking parts in season five.
• Japan-based American pin-up girl/singer Leah Dizon (21) has her first "scandal". Today's issue of weekly gossip magazine "Friday" says she is seeing the handsome 26-year-old son of her management agency's president. Still a university student, he is also a director of the company and has worked on Dizon's promo video production. He has been seen several times picking up Dizon in his car and taking her to his apartment. The agency denies that there's any romance, with the limp explanation that she "is visiting her cat at his apartment, as she's not allowed to keep pets at her own home." A likely story!