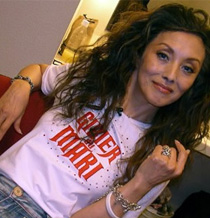 The epitome of the cool single woman, singer/actress Natsuki Mari (55) is engaged to be married. She announced yesterday that she and percussionist Saito Nobu (56) plan to tie the knot next spring. It is Natsuki's first marriage, while Saito is divorced. The couple met in spring of 2006 when Saito was a session musician for Natsuki's new band Gibier du Mari and they started dating this summer. She is scheduled to attend a press event today for the launch of her new book. She is famous for shunning Japan's more conservative values and was widely believed to have no interest in marriage. Real name Nakajima Junko, she started out as a sensual jazz singer, and has often shocked Japan with her sexuality, appearing nude in the 1983 Kinji Fukasaku move "Satomi Hakkenden" (Legend of the Eight Samurai). Twice nominated for a Japanese Academy Award, she voiced the character of Yubaba in Miyazaki Hayao's Oscar-winning anime "Sen to Chihiro no Kamikakushi" (Spirited Away, 2001). Saito is one of Japan's top session musicians and has recorded with artists as diverse as Matsutoya Yumi, B'z, Gackt, and Morning Musume.
• Talento and former Olympic swimmer Michiko Kihara died yesterday of a brain hemorrhage at a hospital in Kanagawa Prefecture. She was 59. Kihara achieved fame when she swam for Japan at the Tokyo Olympic Games in 1964 and went on to become a popular television personality. She was popularly known by her nickname "Mimi".
• Eight Japanese films will be showcased over the course of the British Film Institute's annual London Film Festival which opened Wednesday. With a selection of seven Japanese features and one short making it through the shortlist for a place in the prestigious 16 day program, directors including Yamashita Nobuhiro, Kitano Takeshi and Sori Fumihiko will be given the opportunity to air their works. "There are some highly creative people in Japan and the films are obviously testament to their ideas and their skills and I think that they enrich the festival by providing aesthetic pleasures which you don't perhaps get from other films," said program adviser Tony Rayns. The titles include Kitano's "Kantoku Banzai!" (Glory to the Filmmaker!), Suo Masayuki's courtroom drama "Soredemo Boku wa Yattenai" (I Just Didn't Do It), "Mogari no Mori" (The Mourning Forest) which won the Grand Prix at Cannes this year, and the anime fantasy feature "Vexille".