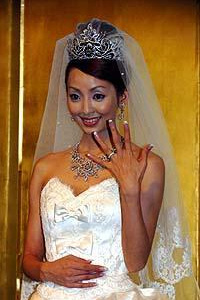 Talento Kanda Uno (32) had her long-awaited wedding in Tokyo yesterday. She married pachinko mogul Nishimura Takuro (37) in a traditional shinto ceremony at Meiji Jingu shrine. The ceremony was followed by a hugely extravagant reception downtown at the Hotel New Otani. A lucky 777 friends and fellow celebrity guests were invited to the reception and bridal fashion show that is said to have cost ¥600 million (771 actually turned up). Kanda wore a 105-carat diamond and platinum tiara, necklace and earring set that arrived just days before from Antwerp and cost some ¥300 million. Kanda's friend Ohguro Maki (37) performed a ballad she had composed specially for the occasion, leaving both the bride and groom in tears. The couple have not yet registered their marriage and plan to do so on October 13, an auspicious taian day on the traditional calendar. The daughter of a bureaucrat, Kanda entered the world of showbiz in 1992. After many years as a regular on the variety show circuit, recently she has been working more as a fashion designer. Yesterday's reception featured dozens of her bridal designs. She has never made a secret of her taste for the high life and there was never any doubt that she would marry into money. Nishimura is the founder of the major Nittaku chain of pachinko parlors, with annual sales of ¥200 billion.
• Newscaster Chikushi Tetsuya (72) returned to the studio 147 days after taking a leave of absence to undergo cancer treatment. He revealed on the "News 23" show back in mid-May that he had been diagnosed with lung cancer. He made occasional telephone appearances on the show during the summer, such as for the July national election, as he underwent chemotherapy. He admitted that he had actually put on some weight, and even managed to talk cheerfully about having lost some 20% of his hair. But he acknowledged that his battle with cancer was ongoing and that he would not be able to return to the studio full-time.
• Former Morning Musume member Abe Natsumi (26) is to be prosecuted after causing a traffic accident on Sunday. According to police, she was making a right turn out of a car park on Sunday evening when she hit a motorbike. Abe was unhurt but the rider suffered minor injuries to his elbow and back. Abe has had her driving license for less than a year and still has a learner's sticker on her car.
• Rock duo B'z have extended their amazing sales records once again. With "Super Love Song" on top of the latest Oricon singles chart, they have now had 40 No.1's in a row. Their 41 consecutive Top 10 entries lifts them above SMAP and The Alfee.
• Veteran idol duo Pink Lady have sued a magazine publisher for use of their image without permission. A February issue of women's magazine "Josei Jishin" featured photos of Mii (49) and Masuda Keiko (50) performing their famous dance moves as part of a feature on dieting through dance. The duo have sued publisher Kobunsha for ¥3.12 million in compensation.