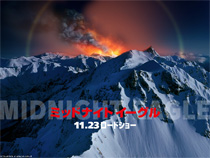 "Heroes" star Masi Oka (32) joined the Japanese director and cast of "Midnight Eagle" for yesterday's world premiere in Hollywood. Stars Osawa Takao (39) and Takeuchi Yuko (27) said the event was all the more thrilling because it was held at the famous Grauman's Egyptian Theatre, the site of Hollywood's first-ever premiere in 1922. Also on stage were director Narushima Izuru (46) and actors Tamaki Hiroshi (27) and Fuji Tatsuya (66). Scheduled for release in Japan on November 23 and in the U.S. in early December, "Midnight Eagle" will be the first Japanese movie to open (almost) simultaneously in Japan and the U.S. following a tie up between Shochiku and Universal Pictures. It will also be the opening movie at the upcoming Tokyo International Film Festival. The plot revolves around a US stealth bomber that has gone down in Japan's Northern Alps.
• Mickie Yoshino (55), leader of the legendary band Godiego, has married a 36-year-old artist. Yoshino and long-time Godiego fan Ouchi Sachie were married by the band's bassist Steve Fox (54), who is also a Christian minister. The couple had been dating since the start of the year. Godiego had limited success overseas but achieved legendary status in Japan following their 1978 single "Monkey Magic", the theme tune for the hugely popular TV drama "Saiyuki".
• Distribution of this week's issue of the weekly gossip magazine "Friday" was canceled at the last minute, the first time this has happened in the magazine's 23-year history. The official explanation was simply that a serious error had been found in a major news story. Sources say that an editor found errors related to the photographs used in the article and that the story in question was about the death of a 17-year-old sumo trainee at the Tokitsukaze stable in June. The incident has led to a police investigation and possible criminal charges against stablemaster Tokitsukaze and several older wrestlers. There has also been strong criticism of the Japan Sumo Association's handling of the matter. Friday, published by Kodansha, has a circulation of about 415,000.