Musicians
Komuro Tetsuya
(Tokyo, 1958- )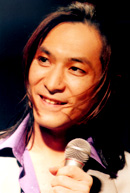 Depending on who you talk to, Komuro Tetsuya is either a musical and marketing genius or the man who destroyed what little credibility Japanese pop music had left at the end of the 20th century. The fairest description is probably that he's a bit of both. Already a successful musician and producer, Komuro started building his "komuro family" in the early 1990's and helped make the Avex Trax label one of the biggest forces in the Japanese music business. His huge success made him hugely wealthy and he acquired the lifestyle to go with it. Ultimately it was that lifestyle that brought him down.
Born in Tokyo, the young Tetsuya learned violin from the age of three. But when he was in junior high school, he came across his first synthesizer and it was love at first sight. He secretly pawned his violin, guitar and keyboard to buy a Roland SH1000 of his own for the whopping sum of 160,000 yen. He joined a band while a student at the prestigious Waseda University and with two members of the band, Utsunomiya Takashi and Kine Naoto, formed TM Network in 1983. The techopop band had some success but Komuro did even better as a producer for such stars as Matsuda Seiko, Koizumi Kyoko and Nakayama Miho.
In 1988, Komuro left the TMN project, as the band was now called, and went to spend a year in London. He indulged in every aspect of the rave scene that was sweeping Europe at the time. On his return to Japan, he set about creating a new scene at home, as a svengali-like guru constantly on the lookout for the right talent. His breakthrough came in 1992 with the group trf (Tetsuya Komuro rave factory), which consisted of a female vocalist, a DJ and three dancers who performed to Komuro's pre-recorded music. Most Japanese music fans had never seen the likes of trf, at least not at home. The steady eurobeat music and onstage confidence of the group caught the public imagination and trf's first two singles EZ Do Dance and Boy Meets Girl sold over a million copies each. The group went on to sell over 20 million singles and albums over the next six years.
Meanwhile Komuro was busy creating another star, Amuro Namie. The impish-faced, long-legged teenager from Okinawa became the style guru for a generation of school girls (much like Hamasaki Ayumi several years later). She later became pregnant by and married trf dancer Sam, putting her career temporarily on hold. Other huge stars from Okinawa included Max (who started out as Amuro's backing dancers) and Speed. Komuro himself played keyboard in the trio globe. All of these projects reaped huge financial rewards for Komuro and his "family".
Some controversy surrounded the career of another protege Kahara Tomomi after the 21-year old became Komuro's live-in lover. Very noticable weight changes and accidents with a gas oven and some razor blades came with their eventual breakup and almost ended her singing career. But she began a comeback in 2001, around the time that the 42-year old Komuro announced his marriage (his second) to singer Yoshida Masami, aged 26 and 4 months pregnant at the time. That lasted less than a year but Komuro was soon back in the saddle again, this time marrying globe vocalist Yamada Keiko in a ceremony televised live that cost an estimated ¥500 million. It was a sign of Komuro's somewhat diminished status that many top stars declined invitations to the event.
Komuro has made several efforts to expand his reach beyond Japan. He wrote the theme music for the France World Cup in 1998 with Jean-Michel Jarre. He made the most of the popularity of Japanese pop music throughout Asia and set up companies (such as orumok and tk news - notice how his name is always there) to search for and produce talent in such places as Hong Kong and Taiwan. But the kind of success he achieved at home eluded him abroad and he ended up in serious debt. Adding to that debt was his ¥1-billion alimony settlement with Yoshida. Komuro started selling off his luxury homes in the U.S. and stable of expensive sports cars.
Komuro and Keiko started making variety show appearances, a sure sign of financial problems. But in November 2008 it was revealed just how far Komuro had gone over the line. He faced arrest for defrauding a businessman out of ¥500 million by selling him the rights tohis catalog of hundreds of songs, many of which actually belonged to Avex (full story).
---
Links