TV Stars
Koizumi Kyoko
(Kanagawa Pref, 1966- )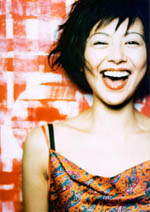 At its peak in the '80s, the aidoru (idol) phenomenon was an impressive production line, churning out dozens of teenage, mostly female starlets every year. Koizumi Kyoko is one of the few idols from the early '80s to have survived with her image and popular appeal intact. She became less active in her acting career following her marriage to popular actor Nagase Masatoshi in 1995 (she met Nagase when he was taking photos for the magazine AnAn, to which she contributes). But she remained in the public eye through regular TV commercial appearances. While she's old enough to play the stereotypical CM mother, her image remains that of the perky girl next door. Her divorce from Nagase came in early 2004, around the time that she was receiving a lot of offers to get back into acting more. This difficulty in combining marriage and work seems to be a real hurdle for many women in Japanese showbusiness and one of the two usually has to suffer.
Popularly known as Kyon-kyon, Koizumi made her breakthrough on the TV audition show Staa Tanjou (A Star is Born) in 1981 and her debut followed the next year. The usual string of slickly packaged pop singles, albums, TV dramas and movies followed. She first appeared on the annual New Year's Eve extravaganza Kohaku Uta Gassen (Red-White Song Battle) in 1984, just a week after her movie debut. In 1987, she won the award for the best-selling single in Japan. She was cast quite out of character as the villain in 1997's hit movie Odoru Daisosasen (Bayside Shakedown), which starred Oda Yuji.
2006 saw Kyon-kyon turn 40 and rumors of a romance with a pop idol literally half her age. Both she and Johnny's Jimusho star Kamenashi Kazuya of the group KAT-TUN, whose career was just hitting overdrive, refused to comment on the widespread media speculation.
---
Links