Actors & Actresses
Nagase Masatoshi
(Miyazaki Prefecture, 1966- )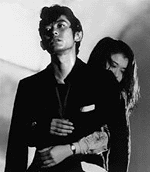 Nagase Masatoshi is perhaps 'the' Japanese indie actor. Best known abroad for his role in Jim Jarmusch's 1989 cult movie Mystery Train, Nagase has appeared in many popular Japanese movies and dramas but at home his face is maybe most associated with the humorous TV commercials he has appeared in. The best of these was the series for cup noodles in which Nagase was placed, a la Forest Gump or Woody Allen's Zelig, in famous scenes from the 20th century, noodles in hand. He has also released two albums and is an active artist and photographer. He married former aidoru (idol) Koizumi Kyoko in 1995 after the two met on one of Nagase's photo shoots. Their marriage lasted until early in 2004, not a bad run for such a high-profile couple.
Nagase dropped out of high school and moved to Tokyo to start his acting career in the movie Shonben Rider in 1983. His ambition was to be a film actor but he repeatedly failed to pass auditions and worked almost entirely in television during the '80s. His encounter with Jarmusch and the confidence he gained through his work on Mystery Train led to more successful international film work. The Asian Beat Project was an ambitious series of six movies produced by Hayashi Kaizo made in six different Asian countries in 1991-2, each starring Nagase. The last in the series Autumn Moon, set in Hong Kong, won the Grand Prize at the Locarno International Film Festival in 1992. The 1996 Icelandic "journey of self-discovery" movie Cold Fever was also a critical success.
Among his movies well received in Japan were Yamada Yoji's Musuko (My Sons, 1991) and Yukai (Abduction, 1997), in which Nagase was delighted to have a chance to star alongside veteran actor Watari Tetsuya. He has also starred in a series of movies, also produced by Hayashi, in which he plays private eye Hama Maiku (Mike Hammer, geddit? photo above). Nagase won the Japan Academy Award for best supporting actor three years running 1997-9.
In 2004, he teamed up with Yamada again in the director's second samurai pic "Kakushi Ken, Oni no Tsume" (Hidden Sword, Demon's Claw), which opened the 17th Tokyo International Film Festival. With almost 20 movies under his belt and a solid acting reputation, Nagase will probably continue to be one of the faces of Japan in the international movie scene for some time.
---
Links