TV Stars
Nakayama Miho
(Tokyo, 1970 - )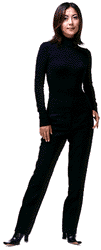 Click here for a larger image.
Nakayama Miho is one of the few aidoru (pop idols) of the 1980's who managed to use the transition to actress to build a career as an established star. She is now one of the most commonly seen faces in TV commercials, a sure sign of success. Her face, like those of most successful actresses not entirely 'au naturale', is used to hock everything from cosmetics to computers, cameras to beer.
Like many young singers, actresses and models, Nakayama was discovered by a scout while shopping in Tokyo's Harajuku, a popular spot for young teens. She made her debut in 1985, at the age of 15, with the single C and in the teen movie Be-bop High School. Over the course of (count them) 17 albums in five years, she followed the usual idol path of bland but big-selling pop releases, TV appearances and movies but was beautiful and ambitious enough to keep this career going beyond her teens. In the '90s, she started writing her own songs and moving beyond the boundaries of pop into jazz and latin music, releasing another 23 albums, many of them collections.
Her acting breakthrough came in 1995 when she starred in the critically acclaimed movie Love Letter (poster) and the popular TV drama For You. Love Letter won the Audience Award at the 1998 Montreal Film Festival. She also starred with Kimura Takuya in the 1999 drama series Nemureru Mori (A Sleeping Forest). Like Koizumi Kyoko, as a successful and maturing actress, Nakayama can pick and choose her dramatic roles and doesn't appear often. She has appeared in over 30 drama series but most were in the first decade of her career. But also like Koizumi, her commercial appearances keep her very firmly in the public eye.
In June 2002, Nakayama's marriage to Akutagawa prize-winning novelist and musician Tsuji Jinsei (42) caused quite a stir.
(Note: her younger sister Shinobu was also briefly a successful idol.)
---
Links