Japan Entertainment News - January 2007
| | |
| --- | --- |
| The New Princess Leah? | January 31, 2007 |
Kano Mika (39), the younger half of the "Gorgeous Kano Sisters" had the best-selling talento photo book of last year. Her "Sweet Goddess", with photos taken by her elder sister Kyoko (44), outsold Kimura Takuya's "% (Percentage)" and several others featuring Johnny's Jimusho male stars. In the No.3 spot was American model Leah Dizon (photo, 20), whose self-promotional savvy has worked particularly well in Japan. The half French-American, half Chinese-Philippina model was born in Las Vegas and raised in Los Angeles. She built up her name on the Web, gaining new fans here with her loose socks and Japanese schoolgirl outfits, not to mention the more scantily-clad photos. She first came to Japan in the spring of 2006, though she had learned enough Japanese to be able to sing the Amuro Namie song "I Will" in her self-made promo video. She lists several Japanese artists among her favorite musicians, thought to be the influence of her half-Japanese cousin. She has just the right look for today's young Japanese female market and isn't afraid to turn on the sex appeal for male fans. A big name in the making?
• Domestic movies beat Hollywood imports at the box office last year for the first time in 21 years. The biggest hits of the year were the latest Harry Potter movie (¥11 billion), the second in Disney's "Pirates of the Caribbean" series (¥10 billion), and "The Da Vinci Code" (¥9 billion). But six local hits, including Studio Ghibli's latest anime feature "Gedo Senki" (Tales From Earthsea, ¥7.65 billion) and the sequel "Limit of Love Umizaru" (¥7.1 billion) were over the ¥5-billion mark, and of the 50 movies that made more than ¥1 billion, 28 were Japanese. Domestic productions brought in almost ¥108 billion in total, while foreign films made ¥94.8 billion. Altogether, 821 new movies were screened in 2006, up 90 from the year before. The number of screens nationwide has also been increasing annually since the first cinema complex opened in 1994. The current total is 3,062, a return to the level last seen in the early 1970s.
• Actress Inoue Harumi (32) is pregnant with her first child. She is expecting the baby at the end of May. She met her Canadian husband, named only as Reuben, while studying in Canada in 2005. Inoue started out as an idol singer in 1991, and was later credited with starting the boom in busty pin-up girls.
Interesting story? Then add it to your favorite social site:







| | |
| --- | --- |
| Lucky 13 for Amuro Namie | January 30, 2007 |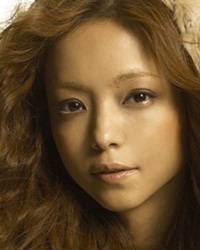 Amuro Namie (29) is the first female artist to have a Top 10 hit on the Oricon singles chart every year for 13 consecutive years. With her latest single, "Baby Don't Cry", released January 24 and entering the chart this week at No.3, she has overtaken Koizumi Kyoko (40) and Kudo Shizuka (36). Two of the top idols of the 1980s and early 90s, they're well past their prime as singers and ended their 12-year runs on the chart back in the mid to late 90s. Amuro had the limelight to herself back in the 90s, starting with her first Top 10 hit "Taiyo no Season" in 1995. Tribes of young female stars copied her dark-skinned look and called themselves "Amuraa". She was the youngest ever winner of the Nihon Record Taisho award for 1997's "Don't Wanna Cry" and is still the female record holder for million-selling singles, with five. Her position as the Queen of J-Pop may have been usurped by the likes of Utada Hikaru, Hamasaki Ayumi and Koda Kumi, but even marriage, motherhood and divorce have failed to put an end to her career. She has developed a large fan base elsewhere in Asia, where she remains one of the most popular Japanese artists. (Among male artists, the record of 17 consecutive years of Top 10 hits is shared by B'z (1990-2006) and SMAP (1991-2007))
Interesting story? Then add it to your favorite social site:







| | |
| --- | --- |
| Musumes Come and Go | January 29, 2007 |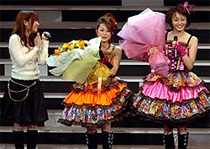 Morning Musume celebrated their tenth anniversary yesterday with a concert at Yokohama Arena, bringing an end to the Hello! Project spring tour. The weekend was marred by an accident on Saturday, when a 35-year-old male fan fell from a 3rd-tier balcony and had to undergo emergency surgery. But the mood was upbeat on Sunday, as former Momus member Konno Asami (19, photo left) made her first appearance on the tour. She is entering the prestigious Keio University this year. The show also marked the first on-stage look at new member Mitsui Aika (14) and the graduation of Country Musume members Asami (22, photo center) and Miuna (19, photo right). Mitsui introduced herself as the first member from Shiga Prefecture and her arrival brings the lineup to sixteen members, though leader Yoshizawa Hitomi (21) is graduating in April. The group performed their new single, "Eigao Yes Nude", due for release on February 14.
• The Stardust Promotion agency represents some of Japan's top actresses, including Tokiwa Takako (34), Nakatani Miki (31), Shibasaki Kou (25) and Takeuchi Yuko (26). But it is promoting its young male talent in a new "mook" (magazine/book), the first time a geino management agency has published its own magazine. The 112-page, full-color "Real G - vol.1" features photos and interviews with up and coming actors like Ichihara Hayato (19) and Takaoka Sousuke (24) and singer K (23). Stardust plans to publish future magazines featuring their young idols and popular actresses.
• The fake data scandal that brought an end to the popular "Hakkutsu! Aru Aru Daijiten II" show goes back further than the recent episode on natto. It seems that there was a similar show back in 1998 that used made up data and misrepresented comments by a university professor to promote the health benefits of eating lettuce. The show claimed that eating it before bedtime helped people sleep. The Kansai TV show has already been cancelled due to the scandal, but more revelations of this kind can only hurt the credibility of TV in general. KTV president Chigusa Soichiro (62) appeared on the network yesterday to apologize again.
• Actor Sakai Masato (33) and actress Tomita Yasuko (37) have split up, according to the Sports Hochi newspaper. Their romance was first revealed by a weekly magazine in 2001 and acknowledged by their respective management agencies, meaning it was serious. Though they were thought to be on the road to marriage, a source says they broke up in the spring of last year.
Interesting story? Then add it to your favorite social site:







| | |
| --- | --- |
| Yon-sama Still Big in Japan | January 27, 2007 |
You may think the craze for Korean actor Bae Yong Joon (35) has faded in Japan, but he's still raking in the cash. Looking at the latest tax records, he is the biggest showbiz taxpayer in his home country. But 90% of his earnings originated in Japan, from "Yon-sama" goods, TV commercials and other media tie-ups. It was revealed this week that in the 2005 tax year he made about ¥4.2 billion. Last year he didn't appear in any TV dramas or movies, but even in 2005 the popular movie "Shigatsu no Yuki" (April Snow) and commercials accounted for only about 20% of his earnings. The other 80% came from merchandising. The whole Yon-sama boom was started by the 2004 TV series "Fuyu no Sonata" (Winter Sonata), with huge crowds of mostly middle-aged women becoming fanatical about him. And in those three years he has milked that popularity to the tune of almost ¥8.5 billion. The flame may be reignited later this year, with a new drama series due to air on TV from the spring. Though "Taio Shishinki" is likely to be hugely successful here, his management say they don't want to focus too much on Japan at the expense of his fans in Korea and China. Meanwhile Sanrio, the company behind Hello Kitty, have agreed to start licensing Yon-sama goods. Details of the agreement with media contents company Key East have not been announced, but are thought to include an original "Joon Bear" character - designed by Yamaguchi Yuko, the women behind Kitty - as well as a host of products featuring his likeness.
• Singer Hitoto Yo (30) is having an afair with producer Kobayashi Takeshi (47), according to the latest issue of weekly magazine "Friday". Hitoto is best known for the 2002 hit "Morai Naki", while Kobayashi has worked with such major stars as Mr. Children and Southern All Stars. He has been married to former My Little Lover vocalist Akko (34) since 1996 and they have two children.
• Comedian Matsumoto Hitoshi (43) is to make his debut as a movie director. He appeared this week at a PR event for "Dainipponjin", due to hit theaters in June, at the Tokyo Prince Hotel Park Tower. The more intellectual half of the hugely popular duo Downtown, he has also been a successful writer. He has set his sights on outdoing fellow comedian turned director Kitano "Beat" Takeshi (60), though he says his movie will be completely different to Kitano's vibrant but often violent style. Other than saying that the movie will be basically an extension of what he's been doing on TV for years, he didn't elaborate on what the movie is about.
Interesting story? Then add it to your favorite social site:







| | |
| --- | --- |
| Watanabe Ken's a Winner | January 26, 2007 |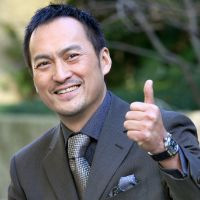 Watanabe Ken (47) is finally a star! This week he was named as best actor at the 49th Blue Ribbon Awards for his role in last year's "Ashita no Kioku" (Memories of Tomorrow). His career in Japan is long and distinguished, so much so that he was able to make a successful move to Hollywood. But the surprising thing is that this was his first starring role. The movie, about an aggressive advertising executive who is beset with early-onset Alzheimer's Disease, was very much Watanabe's project. He was also executive producer and had been wanting to make the film for some time. Last year he also starred in Clint Eastwood's "Letters from Iwo Jima", which has been nominated for this year's Oscars. The best actress Blue Ribbon went to Aoi Yu (21) for "Hula Girl" and "Hachimitsu to Kuroba" (Honey & Clover). Hula Girl was also chosen as best picture. The best newcomer awards were given to comedian Tsukaji Muga (35), one half of the duo Drunk Dragon, for his movie debut in "Mamiya Kyodai"; and former Takarazuka star Dan Rei (35) for her role in Yamada Yoji's samurai flick "Bushi no Ichibun". SMAP heart throb Kimura Takuya (34) was nominated for his leading role in that movie, but declined as per the policy of his agency, Johnny's Jimusho.
Interesting story? Then add it to your favorite social site:







| | |
| --- | --- |
| A Japanese Beauty? | January 25, 2007 |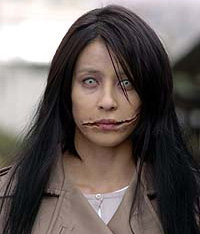 You may have trouble believing it, but Mizuno Miki (32) is one of Japan's more attractive actresses. The special makeup she's wearing is for her role in the horror movie, "Kuchisake Onna". The title literally means "slit-mouth woman" and is reminiscent of the gruesome ghosts of Japanese folklore. The movie is based on a famous urban legend from the late 1970s, in which a masked woman would terrorize young children on their way home from school. Removing the mask, she'd ask them, "Am I beautiful?" If they answered "No", she would slit their throats on the spot. If they told her she was beautiful, she would take them to their home and kill them there. The only way to avoid death was to answer "Not bad" or "Normal". Mizuno was originally offered the part of one of the children's mother, but asked for the more "interesting" role. "The director (Shiraishi Koji) told me to be the incarnation of violence. So in my acting I tried to make 100% use of the little bit of evil that lives in the heart of everyone. It was fun." She added, "I even scared myself in that makeup!" The movie, which opens on March 17, also stars Sato Eriko (25) and Kato Haruhiko (31).
Interesting story? Then add it to your favorite social site:







| | |
| --- | --- |
| An Oscar for Rinko? | January 24, 2007 |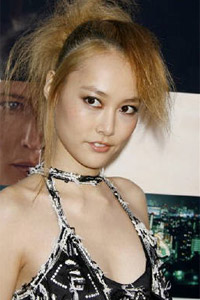 Kikuchi Rinko (26) has made it onto the Oscar shortlist. Yesterday, she became just the fifth Japanese actor to be nominated for an Academy Award, for her role in "Babel". She plays a deaf high school girl struggling to come to terms with the death of her mother and her own awakening sexuality. She was also among the nominess for a Golden Globe, though the award went to Jennifer Hudson for "Dreamgirls". Among Kikuchi's other rivals for the Oscar will be her Babel co-star Adriana Barraza. Director Alejandro Gonzalez Inarritu is also up for an award. Babel was nominated in a total of six categories, including the one for best picture, in which it's up against Clint Eastwood's Japanese language WWII drama "Letters From Iwo Jima". That movie in turn stars Watanabe Ken (47), who was the last Japanese actor to receive an Oscar nomination in 2004 for "The Last Samurai". "Letters..." didn't get any acting nominations but it's in the running for best original screenplay and sound editing, and Eastwood was nominated for best director.
• Actress Uchida Yuki (31) is to make her first movie appearance in nine years. She will star in "Quiet Room ni Youkoso", written and directed by Matsuo Suzuki (44). Based on his Akutagawa Prize-winning novel, it is the story of a divorcee writer who one day finds herself confined in a hospital isolation ward. Uchida is herself a divorcee, having split from actor Yoshioka Hidetaka (36) in 2005. She returned to TV drama last year after a 4-year absence from the small screen.
• Talento Ishikawa Asami (29) and musician Ryoji (32) are the proud parents of a baby boy. The couple married in July of last year after meeting at a gig by Ryoji's popular group Ketsumeishi.
• Just days after his 10-year-old daughter was killed by a truck, talento Kazami Shingo (44) made tearful return to work. He turned up at the Meijiza Theater yesterday for rehearsals of a theatrical production scheduled for next month. In a quintessentially Japanese form of politeness, he apologized to fellow cast members for the "meiwaku" (inconvenience) and thanked them for attending his daughter's funeral.
Interesting story? Then add it to your favorite social site:







| | |
| --- | --- |
| Miss Japan 2007 | January 23, 2007 |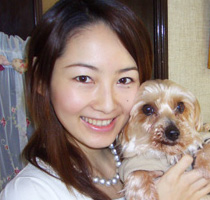 23-year-old Hagi Mika is the 39th Miss Japan. The Rikkyo University graduate school law student was chosen from 2,432 entrants at the finals held at the Keio Plaza hotel in Tokyo yesterday. She won a ¥14-million diamond tiara and a holiday in Phuket. It was the third time for Hagi, from Mie Prefecture, to enter the contest. Her mother first entered her without her knowledge while she was a high school senior, taking her measurements while she was sleeping. Hagi was a national debate quarter-finalist while in high school, and was a beauty queen while studying at Mie University in 2002. She worked as a local TV reporter at the Suzuka race circuit, also in her native Mie, before coming to study in Tokyo. The day before yesterday's finals, she had been announced as the winner of the "Miss Nihon Sponichi Special Award", chosen by readers of the Sports Nippon newspaper.
• The natto scandal has taken down a long-running Fuji TV show. After 27 years as sole sponsor of "Hakkutsu! Aru Aru Daijiten", Kao Corporation has said it will no longer back the program after it was revealed that a recent show on the dietary benefits of eating fermented soybeans was largely made up by the production company. The Kansai TV show, broadcast nationwide on the Fuji TV network on January 7, will be taken off the air following more than 6,000 complaints from viewers and a government investigation, and KTV president Chigusa Souichiro may be forced to resign. (see yesterday's story for more...)
Interesting story? Then add it to your favorite social site:







| | |
| --- | --- |
| A Big Stinking Lie | January 22, 2007 |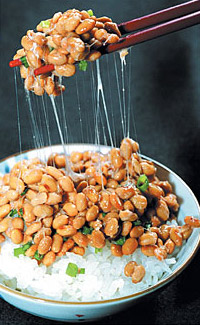 Executives of Kansai TV apologized on Saturday for made-up content on a popular show that caused a rush on natto products. The sticky, stinky fermented soybeans are a food that you either love or hate. But packs were flying off supermarket shelves across the country after the January 7 edition of "Hakkutsu! Aru Aru Daijiten II" (Encyclopedia of Living II) touted their effectiveness as a diet product. The program quoted research from the U.S. that claimed boosting DHEA hormone levels in the body, such as from eating natto, led to dramatic weight loss. But the U.S. university professor shown on the program was not the one who carried out the research, his statements were incorrectly translated, and photos of test subjects were fake. The show also showed eight people who went on a two-week natto diet, saying they lost up to 3.4kg. But blood test results that allegedly showed increased DHEA levels were simply made up, as were several other claims. The show was produced in Tokyo by Japan Television Workshop and broadcast nationwide by the Fuji TV network and affilates. On Saturday, KTV president Chigusa Souichiro apologized to viewers, sponsors and celebrities who appeared on the show. Another KTV spokesman said that the problem was with the program itself and that they stood by the dietary benefits of natto. Sunday's scheduled broadcast was replaced by a 5-minute apology by Fuji TV announcer Mori Hachiro and an extended edition of the show "Stamen", which also addressed the issue.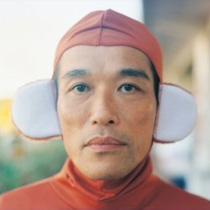 Talento Sonomanma Higashi (49) was elected as the new governor of Miyazaki Prefecture yesterday. The former member of comedian Kitano "Beat" Takeshi's crazy gang was elected on an independent reformist platform, promising to stamp out the kind of bid-rigging scandals that brought down his predecessor. Sonomanma himself (real name Higashikokubaru Hideo) is no stranger to scandal, though on more of a personal level. He and his wife split last year, with her saying she didn't want to give up life in Tokyo to become a regional politician's wife. Long known as one of the best long-distance runners in showbiz, Sonomanma was often seen out jogging while canvassing for votes.
• Ditzy talento Yamaguchi Moe (29) revealed at the weekend that she is 4 months pregnant. She married IT company president Ozeki Shigeo (32) at the end of 2005.
Interesting story? Then add it to your favorite social site:







| | |
| --- | --- |
| Kudo Yuki's Father Dies | January 19, 2007 |

Singer Izawa Hachiro died yesterday from esophageal cancer at a Tokyo hospital. He was 69. Real name Kudo Kinichi, he was the father of Hollywood actress Kudo Yuki, who turned 36 yesterday. She wasn't with him at the end but had visited him in the morning. She said on her official homepage that her father had done his best to hold on and help her celebrate her birthday. Izawa was first diagnosed with cancer in September 2005 and had been undegoing treatment. He was hospitalized since last November. He made his singing debut in 1963 and had his signature hit, "Aa Ueno Eki" the following year. He had two children, Yuki and former actor turned club DJ Kudo Masaki, with his first wife, Yukiko. They divorced in 1989 and he married voice actress Aoba Miyoko, 25 years his junior, in 1993. Kudo Yuki appeared in the 2005 hit "Memoirs of a Geisha" (Sayuri) and is currently filming "Rush Hour 3".
• Hollywood stars visiting Tokyo this week include Leonardo DiCaprio (32), in town to promote his latest flick, Oscar contender "The Departed". Martin Scorsese's remake of the Hong Kong hit "Infernal Affair" won a Golden Globe award for best director earlier in the week. It opens here on January 20; Will Smith (38) presented Prime Minister Abe Shinzo (52) with a bottle of wine yesterday. The PM said he doesn't drink but his wife is sure to enjoy it. He added that he has yet to see "The Pursuit of Happyness", to which Smith urged him to be sure to bring some tissues!
• Coming soon is hip hop star Kanye West (29), who will join the local Teriyaki Boyz for a live performance on TV Asahi's "Music Station" on January 26. last year saw appearances by The Red Hot Chili Peppers and U2 on the show, but both were in Japan for concerts. West, who was here in November, is scheduled to play shows from March 31 to April 3, but this month's visit is simply in support of the Boyz. Together they'll be performing "I Still Love H.E.R." West is a personal friend of Boyz member and fashion guru Nigo (36), the founder of the A Bathing Ape brand.
Interesting story? Then add it to your favorite social site:







| | |
| --- | --- |
| Classical Chart Topper | January 18, 2007 |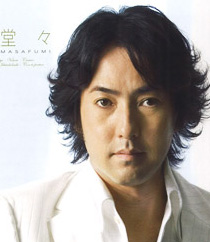 For the first time ever, a classical recording is top of the Oricon singles chart. "Sen no Kaze ni Natte", by tenor Akikawa Masafumi (39), was released in June of last year but got a huge sales boost from his appearance on NHK's Kohaku Uta Gassen on New Year's Eve. The song is based on an English poem of bereavement, that opens with the lines "Do not stand by my grave and weep, for I am not there, I do not sleep. I am a thousand winds that blow, I am the diamond's glint on snow." (See the Japan Forum for the full poem). A different version of the song sung by Arai Michiru, who wrote the lyrics and music for Akikawa's hit, has also made the charts. Meanwhile, taking up the No.2 and No.3 spots in the chart are new releases from 28-year veterans Chage & Aska. Chage takes the vocal lead on "Here & There", while Aska is the frontman for "Man & Woman".
• The 10-year-old daughter of talento Kazami Shingo (44, real name Ohshita Yoshihiro) was killed yesterday morning by a truck on her way to school. The accident happened when Oshita Emiru was walking to school in Tokyo's Setagaya Ward shortly after 8am. She was crossing a road just 130m from her home when a 3-ton truck turned into the raod and hit her. She suffered a fractured skull and was accompanied by her father to hospital, where she died later in the morning. The 22-year-old truck driver was arrested for professional negligent homicide. Kazami and his wife Naoko, a former Miss Japan, married in 1994. They had a second daughter in 2003. The family only last month suffered the death of Naoko's younger brother.
• Comedienne Daita Hikaru (31) is getting divorced after just a year of marriage. She and writer Kitamoto Katsura (30) got married on January 16 2006, and Kitamoto wrote of their plans to split on his blog yesterday, a year and a day later. He didn't state the specific reason, but it is widely believed to be Daita's rumored extra-marital affair.
Interesting story? Then add it to your favorite social site:







| | |
| --- | --- |
| Rinko's Not Golden | January 17, 2007 |
Clint Eastwood's intense Japanese WWII drama "Letters From Iwo Jima" beat a strong field to win the Golden Globe for best foreign language film. It's the first time a Japanese-language movie has taken the award since Ichikawa Kon's "Kagi" in 1959, the year that "Letters..." star Watanabe Ken (47) was born. He was in Hollywood for the award show with his wife, actress Minami Kaho (42). The movie is now a strong contender for an Oscar next month, though as a Hollywood production it will first need to be nominated for Best Picture. Meanwhile, actress Kikuchi Rinko (26) failed to see her role in "Babel" earn her the best supporting actress award, which went to Jennifer Hudson (25) for "Dreamgirls". (I don't think she helped her chances with the ridiculous dress she wore!) But Kikuchi did have the consolation of seeing Babel take the prize for best film and sharing the joy with co-star Angelina Jolie (31). And she is still in with a chance of being the first Japanese actress since Miyoshi "Nancy" Umeki in 1957 to win an Oscar.
• Popular actor Tanihara Shousuke (34) gave a press conference yesterday to announce his engagement to former talento Miyake Emi (29). The couple performed together on the 2001 Fuji TV drama "Kyuumeibyoutou 24-ji", though romance for both of them lay elsewhere. Miyake was pregnant when she married actor Ishida Issei (32) in 2003, and they divorced in January 2006. She is also two months pregnant this time, so Tanihara is getting two kids as well as a wife. He was linked with Othello comedienne Nakajima Tomoko (35) in 2004, but they split the following year. He is currently appearing in two drama series, including this year's taiga on NHK, and is a presenter on the TBS Saturday morning show "O-sama no Brunch".
• Yomiuri TV is expecting an audience rating of over 30% for their planned live broadcast of the wedding reception for actress Fujiwara Norika (35) and comedian Jinnai Tomonori (32) on May 30. There are also plans for the bride and groom's parents to appear on the NTV "Narutomo!" morning variety show - co-hosted by Jinnai - a couple of days after the couple's wedding ceremony on February 17. The show is only broadcast in central and western Japan.
Interesting story? Then add it to your favorite social site:







| | |
| --- | --- |
| Beauty and the Beast | January 16, 2007 |
Talk about Beauty and the Beast! Well, that hardly seems fair to Yoshimoto comedian Tsutsumishita Atsushi (29), but that's how the media are reporting his newly-discovered romance with fashion model Tokita Reiko (22). The chubby member of manzai duo Impulse weighs in at 80kg but that didn't put off Tokita, who made the first move last autumn when the pair worked together on a variety show. What has reporters speculating that this is a serious relationship is the fact that they spent a week together over the New Year break at the luxury Bulgari Resort in Bali, where rooms cost around $1,000 a night. Tsutsumishita told comedian Akashiya Sanma (51) about the trip during the recent recording of this weekend's edition of his show, "Sanma no Super Karakuri TV", adding that it cleaned out his savings. The couple met on another Sanma-hosted show, "Odoru! Sanma Goten" variety show in October, with Tokita telling Tsutsumishita on air that she was an Impulse fan and liked him. Sanma got them to exchange telephone numbers and they clearly took it from there. Impulse, with Itakura Shunsuke as the boke, made their debut in 1998. Tokita made her debut in the teen magazine "Cawaii!" while she was in high school.
• Sunday's opening episode of Kimura Takuya's latest drama scored a high 27.7% audience rating in the Kanto region, according to Video Research. TBS's "Karenaru Ichizoku" is by far the most popular drama of the winter season, though its ratings still fall well below Kimutaku's best. Of the 12 series he's starred in going back to Fuji's mega-hit "Long Vacation" in 1996, the latest opener ranked only 8th.
Interesting story? Then add it to your favorite social site:







| | |
| --- | --- |
| Yossi's a True Pro | January 15, 2007 |
Morning Musume leader Yoshizawa Hitomi (21) is a true professional. Yesterday, she made a scheduled concert appearance with the dozens of other Hello! Project members despite the recent tragic death of her younger brother. The 26-song set went ahead as planned, with the pink-clad Yoshizawa making reference only to how sad she was about her planned "graduation" from Morning Musume in May. She is currently the longest-serving member of the group, having joined in 2000. Word of her personal tragedy had spread among the 2,400 fans at the Osaka Kouseinenkin Kaikan hall, and they shouted their encouragement. But reporters were told that she would not be answering any questions about the tragedy after the concert. 16-year-old Yoshizawa Hirota was killed in a traffic accident last Thursday.
• Also on the road are rock band Glay, who kicked off the second leg of their 42-show nationwide tour at the Yokohama Arena yesterday. Some 13,500 fans enjoyed a two-and-a-half-hour set that included the new single "100-mankai no Kiss", out on January 17. It's taken from their first original album in almost three years, "Love is Beautiful", which goes on sale January 31.
• Finishing a mommoth tour yesterday were Tokyo Ska Paradise Orchestra. They celebrated the end of a 6-month, 71-date tour, that included shows in Europe, with 15,000 fans at the Saitama Super Arena. They will release a greatest hits album and a "road movie" about their tour in March.
• In town promoting his latest book is former U.S. vice president Al Gore (58). He appeared at a book-signing event for "An Inconvenient Truth" at the Maruzen bookstore in Tokyo's Marunouchi district yesterday. Today he is to meet with the environment minister and business leaders, and attend the Japan premiere of the documentary movie based on his book at the Asahi Hall in Yurakucho.
Interesting story? Then add it to your favorite social site:







| | |
| --- | --- |
| Morning Musume at 10 | January 12, 2007 |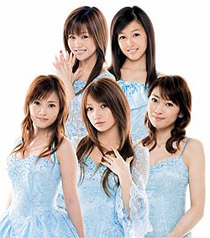 Former and current members of Morning Musume have formed a new unit to celebrate the 10th anniversary of the popular girl group on January 28. Morning Musume Tanjou 10-Nen Kinentai is made up of "graduates" Abe Natsumi (25), Iida Kaori (25) and Goto Maki (21), and current younger members Niigaki Risa (18) and Kusumi Koharu (14). They have recorded a commemorative single, "Bokura ga Ikiru, My Asia", which will also be the theme tune of the upcoming Cirque du Soleil show "Dralion". The name is a combination of the Eastern dragon and the Western lion, and the tune is described by Helo! Project founder and producer Tsunku (38) as a reflection of that east-meets-west theme. The show opens on February 7 and other celebrity supporters enlisted to promote it include comediennes Hisamoto Masami and Shibata Rie, newscaster Ogura Tomoaki, and Olympic ice skating gold medalist Arakawa Shizuka. Morning Musume will also have their annual spring tour from March to May 6, after which leader Yoshizawa Hitomi (21) will graduate from the group. Her role will be filled by Fujimoto Miki (21).
• The DJ Ozma scandal continues and NHK chairman Hashimoto Genichi (63) spoke about nothing else during his regular press conference yesterday. The public broadcaster has received some 1,800 complaints from viewers about the "naked" performance of Ozma and his dancers on Kohaku last New Year's Eve. The network has apologized, as have Ozma's label, Toshiba EMI. But NHK are determined that there will be no repeat of such a "surprise attack" on future shows. Ozma appeared on NHK music shows a total of eight times last year, but is unlikely to be seen on the network again anytime soon as he has been resolutely unapologetic for the incident. In future, according to Hashimoto, verbal agreements will be replaced with written contracts that clearly forbid unsuitable" performances. There are also plans for a new manual on how to change camera angles during a live broadcast. On a related note, three U.S. stations in San Fransisco, Los Angeles and Hawaii broadcast an edited version of the show.
• Johnny's veteran Higashiyama Noriyuki (40) has fessed up to his romance with actress Uchiyama Rina (25). The former Shonentai member admitted to the relationship in a message to fans on the Johnny's Web mobile site.
Interesting story? Then add it to your favorite social site:







| | |
| --- | --- |
| Hitomi's Horror Hit | January 10, 2007 |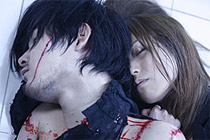 Singer turned actress hitomi (30) avoided her usual sexy attire for the Japan premiere of the Tsukamoto Shinya movie "Akumu Tantei" (Nightmare Detective) yesterday. She wore a kimono for the event, attended by 2,000 fans, and looked every bit the ideal Japanese beauty. Giving her her first starring role and co-starring Matsuda Ryuhei (23), the movie was first shown at the Pusan Film Festival last October and is slated to open in 15 countries, including the U.S. and the U.K. Tsukamoto is said to be planning a series and may follow in the footsteps of other horror directors who have recently started working in Hollywood. Some 11 companies are interested in doing a remake. Akumu Tantei's plot reads like "Nightmare on Elm Street" meets "One Missed Call". Detective Kirishima Keiko (Hitomi) tries to recruit a mysterious man (Matsuda) who can enter people's dreams to help unravel unusual suicides whose victims are found to have dialled 0 on their mobile phones before their death. It opens here on January 13.
• Permanently bronzed singer Matsuzaki Shigeru (57) is a proud dad once again. He announced the birth of his third child yesterday at a PR event for the upcoming movie "Keitai Deka, The Movie 2". He provided songs for the movie's soundtrack, including the theme tune. His wife Hiroyo gave birth to their second daughter on January 4.
Interesting story? Then add it to your favorite social site:







| | |
| --- | --- |
| Mona's a Jackass! | January 09, 2007 |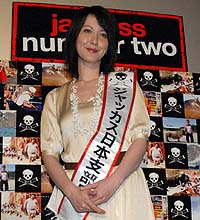 Yamamoto Mona (30) admits she was a "jackass"! The newscaster, forced to quit the TBS show "News23" in October following revelations of an affair with a married politician, continues to submit herself to humiliation as an act of repentance. She made her first public appearance yesterday since the scandal, taking on the role of "Jackass Japan Section Chief" in a PR event for the movie "jackass number two". Directed by Jeff Tremain and again starring Johnny Knoxville and Bam Margera, the sequel continues to exploit the success of MTV's show based on crazy, dangerous and irresponsible behavior. In an effort to restart her career, Yamamoto is going along with the spin that her own lifestyle was similarly reckless. Her only TV appearance after leaving News23 was on Beat Takeshi's Ultra Quiz revival at the end of the year, on which she was the constant butt of jokes. "jackass..." opens on January 13.
• DJ Ozma is enjoying the benefit of his recent Kohaku scandal. The singer caused an uproar on the New Year's Eve song contest when he and his dancers appeared wearing costumes that, at a glance, made them seem naked. Hundreds of complaints flooded into NHK, who issued an apology. But the flamboyant Ozma has been totally unapologetic and his single "Age Age Every Kishi" has shot up the Oricon chart. It jumped from 107 to 42, the largest ever rise credited to the "Kohaku effect". Meanwhile, at No.1 on the singles chart is Mr. Children's "Shirushi". And on top of the album chart is Koda Kumi with "Black Cherry".
• Japan's ace pitcher threw his last baseball in public before he heads off to join the Boston Red Sox this week. Matsuzaka Daisuke (26) took part as a guest in an exhibition game between amateur teams on Sunday. Though his new MLB contract forbids him from playing elsewhere, he threw a ceremonial opening pitch to Ibaragi Golden Goals owner, comedian Hagimoto Kinichi. Matsuzaka wore a No.1 shirt for the Yokohama Samurai, who are based in his hometown. He was also roped in to throwing a closing pitch, this time to another special guest, veteran actor Watari Tetsuya. He leaves for the U.S. on Thursday. It's surely no coincidence that the date - 1/11 - is similar to the amount the Sox paid to negotiate with him - $51,111,111.11!
• Traditional dancer Hanayagi Juraku died from emphysema on Sunday at a Tokyo hospital. He was 88. Designated as a Living National Treasure in 1991, he was a leading figure in kabuki buyo who also choreographed dance performances abroad and by the Takarazuka theatrical troupe.
Interesting story? Then add it to your favorite social site:







| | |
| --- | --- |
| New Year Roundup | January 08, 2007 |

Perhaps the biggest showbiz story over the New Year came from NHK's continuing struggle to revive its annual Kohaku Uta Gassen show on December 31. For several years, the show has seen its once-dominant audience ratings drop lower and lower despite ever-increasing appeals to younger TV viewers. Things were no better this year, with a live apology, the second-worst ever ratings, and tragedy striking the crew. The network was inundated with complaints about a naked DJ Ozma and his topless dancers - in fact, the singer was wearing a semi-realistic looking appendage and the girls were wearing costumes that made them look naked. But the fuss caused NHK to make an apology on air. The network later said they had not anticipated the incident as the performers had used different costumes in rehearsals, though it was the same performance Ozma had used during his recent nationwide tour. He and his dancers performed the same routine later that night on TBS, with no fuss. Meanwhile, tragedy struck earlier in the day, when a member of the NHK crew collapsed during final rehearsals. The 56-year old man had been filling the role of Olympic gold medalist Arakawa Shizuka during rehearsals when he collapsed. He died in hospital on New Year's Day.
• It's the standard practice for many Japanese celebrities to wind down from the hectic year-end schedule by spending a few days vacationing in Hawaii or other warmer climes over the New Year. Actress Fujiwara Norika (35) and comedian Jinnai Tomonori (32) returned yesterday from their short "pre-honeymoon" in Miami and were greeted by about 50 reporters at Narita Airport. The couple are set to have the biggest showbiz wedding of the year at Ikuta Jinja shrine in their hometown of Kobe on February 17. Already married are comedian Ogi Hiroaki (35) and Moriyama Naho (34), who were in Hawaii for a New Year honeymoon. Naho is the daughter of folk singer Moriyama Ryoko. Other celebrities in Hawaii included local ukelele player Jake Shimabukuro (30), who appeared on Kohaku, singer Koda Shin and comedians Kawada Hiroki, Ueda Shinya and Shibata Rie.
• Actress Kikuchi Rinko (26) has been nominated by the Screen Actors Guild for a Best Supporting Actress award for her role in "Babel". The nomination follows similar recognition last month from the National Board of Review and the Broadcast Film Critics Association.
• Popular actress Amami Yuki (39) and rock singer Kikkawa Koji (41) have split up. The pair had been dating since 2003, and their relationship became public in the summer of 2004. They are said to have grown apart and broke up on good terms. Though it's probably nothing to do with the split, Kikkawa is the only celebrity to have acknowledged his former relationship with actress Ishihara Mariko (42) following her publication late last year of a book about her romantic involvement with 13 famous stars. He's also the only one Ishihara says she thought she could have married.
Interesting story? Then add it to your favorite social site: