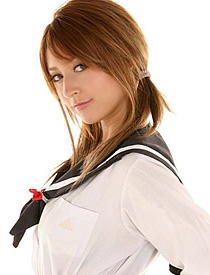 Kano Mika (39), the younger half of the "Gorgeous Kano Sisters" had the best-selling talento photo book of last year. Her "Sweet Goddess", with photos taken by her elder sister Kyoko (44), outsold Kimura Takuya's "% (Percentage)" and several others featuring Johnny's Jimusho male stars. In the No.3 spot was American model Leah Dizon (photo, 20), whose self-promotional savvy has worked particularly well in Japan. The half French-American, half Chinese-Philippina model was born in Las Vegas and raised in Los Angeles. She built up her name on the Web, gaining new fans here with her loose socks and Japanese schoolgirl outfits, not to mention the more scantily-clad photos. She first came to Japan in the spring of 2006, though she had learned enough Japanese to be able to sing the Amuro Namie song "I Will" in her self-made promo video. She lists several Japanese artists among her favorite musicians, thought to be the influence of her half-Japanese cousin. She has just the right look for today's young Japanese female market and isn't afraid to turn on the sex appeal for male fans. A big name in the making?
• Domestic movies beat Hollywood imports at the box office last year for the first time in 21 years. The biggest hits of the year were the latest Harry Potter movie (¥11 billion), the second in Disney's "Pirates of the Caribbean" series (¥10 billion), and "The Da Vinci Code" (¥9 billion). But six local hits, including Studio Ghibli's latest anime feature "Gedo Senki" (Tales From Earthsea, ¥7.65 billion) and the sequel "Limit of Love Umizaru" (¥7.1 billion) were over the ¥5-billion mark, and of the 50 movies that made more than ¥1 billion, 28 were Japanese. Domestic productions brought in almost ¥108 billion in total, while foreign films made ¥94.8 billion. Altogether, 821 new movies were screened in 2006, up 90 from the year before. The number of screens nationwide has also been increasing annually since the first cinema complex opened in 1994. The current total is 3,062, a return to the level last seen in the early 1970s.
• Actress Inoue Harumi (32) is pregnant with her first child. She is expecting the baby at the end of May. She met her Canadian husband, named only as Reuben, while studying in Canada in 2005. Inoue started out as an idol singer in 1991, and was later credited with starting the boom in busty pin-up girls.