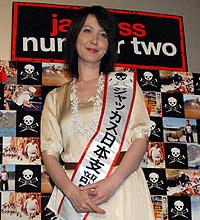 Yamamoto Mona (30) admits she was a "jackass"! The newscaster, forced to quit the TBS show "News23" in October following revelations of an affair with a married politician, continues to submit herself to humiliation as an act of repentance. She made her first public appearance yesterday since the scandal, taking on the role of "Jackass Japan Section Chief" in a PR event for the movie "jackass number two". Directed by Jeff Tremain and again starring Johnny Knoxville and Bam Margera, the sequel continues to exploit the success of MTV's show based on crazy, dangerous and irresponsible behavior. In an effort to restart her career, Yamamoto is going along with the spin that her own lifestyle was similarly reckless. Her only TV appearance after leaving News23 was on Beat Takeshi's Ultra Quiz revival at the end of the year, on which she was the constant butt of jokes. "jackass…" opens on January 13.
• DJ Ozma is enjoying the benefit of his recent Kohaku scandal. The singer caused an uproar on the New Year's Eve song contest when he and his dancers appeared wearing costumes that, at a glance, made them seem naked. Hundreds of complaints flooded into NHK, who issued an apology. But the flamboyant Ozma has been totally unapologetic and his single "Age Age Every Kishi" has shot up the Oricon chart. It jumped from 107 to 42, the largest ever rise credited to the "Kohaku effect". Meanwhile, at No.1 on the singles chart is Mr. Children's "Shirushi". And on top of the album chart is Koda Kumi with "Black Cherry".
• Japan's ace pitcher threw his last baseball in public before he heads off to join the Boston Red Sox this week. Matsuzaka Daisuke (26) took part as a guest in an exhibition game between amateur teams on Sunday. Though his new MLB contract forbids him from playing elsewhere, he threw a ceremonial opening pitch to Ibaragi Golden Goals owner, comedian Hagimoto Kinichi. Matsuzaka wore a No.1 shirt for the Yokohama Samurai, who are based in his hometown. He was also roped in to throwing a closing pitch, this time to another special guest, veteran actor Watari Tetsuya. He leaves for the U.S. on Thursday. It's surely no coincidence that the date – 1/11 – is similar to the amount the Sox paid to negotiate with him – $51,111,111.11!
• Traditional dancer Hanayagi Juraku died from emphysema on Sunday at a Tokyo hospital. He was 88. Designated as a Living National Treasure in 1991, he was a leading figure in kabuki buyo who also choreographed dance performances abroad and by the Takarazuka theatrical troupe.