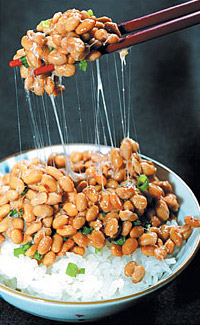 Executives of Kansai TV apologized on Saturday for made-up content on a popular show that caused a rush on natto products. The sticky, stinky fermented soybeans are a food that you either love or hate. But packs were flying off supermarket shelves across the country after the January 7 edition of "Hakkutsu! Aru Aru Daijiten II" (Encyclopedia of Living II) touted their effectiveness as a diet product. The program quoted research from the U.S. that claimed boosting DHEA hormone levels in the body, such as from eating natto, led to dramatic weight loss. But the U.S. university professor shown on the program was not the one who carried out the research, his statements were incorrectly translated, and photos of test subjects were fake. The show also showed eight people who went on a two-week natto diet, saying they lost up to 3.4kg. But blood test results that allegedly showed increased DHEA levels were simply made up, as were several other claims. The show was produced in Tokyo by Japan Television Workshop and broadcast nationwide by the Fuji TV network and affilates. On Saturday, KTV president Chigusa Souichiro apologized to viewers, sponsors and celebrities who appeared on the show. Another KTV spokesman said that the problem was with the program itself and that they stood by the dietary benefits of natto. Sunday's scheduled broadcast was replaced by a 5-minute apology by Fuji TV announcer Mori Hachiro and an extended edition of the show "Stamen", which also addressed the issue.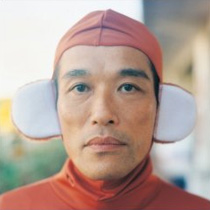 Talento Sonomanma Higashi (49) was elected as the new governor of Miyazaki Prefecture yesterday. The former member of comedian Kitano "Beat" Takeshi's crazy gang was elected on an independent reformist platform, promising to stamp out the kind of bid-rigging scandals that brought down his predecessor. Sonomanma himself (real name Higashikokubaru Hideo) is no stranger to scandal, though on more of a personal level. He and his wife split last year, with her saying she didn't want to give up life in Tokyo to become a regional politician's wife. Long known as one of the best long-distance runners in showbiz, Sonomanma was often seen out jogging while canvassing for votes.
• Ditzy talento Yamaguchi Moe (29) revealed at the weekend that she is 4 months pregnant. She married IT company president Ozeki Shigeo (32) at the end of 2005.