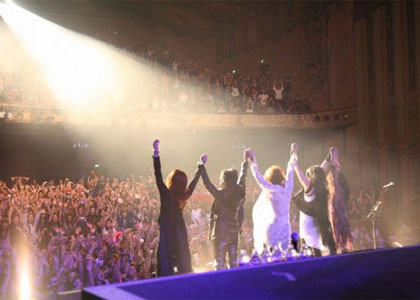 X Japan drummer and band leader Yoshiki announced yesterday the the rock group are releasing the single "Jade" in the U.S. on March 15. The track will be their "single debut" in North America, following their long-awaited first concert tour there last year, and the first release based on the 3-year contract they signed with EMI last November. The band are said to be in negotiations for the single to be concurrently released throughout Asia and Europe. It is their first single since "The Last Song" in 1998, a title that for almost a decade seemed to be sadly appropriate.
"Jade" is a rock number that pays tribute to the band's late guitarist Hide, and was recorded with the help of arranger David Campbell (62). He has worked on over 450 gold and platinum albums, including releases by Michael Jackson, Metallica and his son, Beck. The jacket for the CD single is to be shot in Japan today, but will not feature the band members. The promo video will come in two versions and feature live footage shot at shows in the U.S. last year.
The approach of debuting in the U.S. with the release of a single rather than an album is not common, and (with the typical pomp reserved here for X Japan) is being compared with how the Beatles first entered the U.S. music scene in January 1964. There are plans to release two more singles ("IV" and "Born Free") before putting out an album in the summer. Yoshiki said he has a lot of confidence in the album, which is about 50/50 new and old songs.