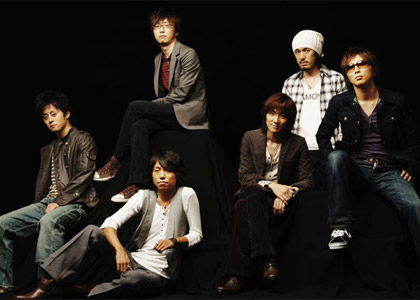 Popular acappella group Rag Fair formally announced on their website yesterday that they will be taking an indefinite break from performing from late March. The group's six members, now in their tenth year as pros, plan to pursue solo careers after finishing a concert tour that will take in Tokyo, Nagoya and Osaka between February 19 and March 20.
Rag Fair formed in July 1999 while the members were all at Saitama University. There was growing interest in acappella in Japan at the time, and the group got their break following an appearance on a Fuji TV variety show hosted by the comedy group Neptune in 2001. "Hamonepu" – a combination of the Japanese for "harmony" and "Neptune" – was a segment where young singers competed in a knockout format. In June 2002, six months after they signed with a major record label, they released two singles, "Koi no Mileage" and "SheSide Story," and saw them go to No.1 and No.2 on the Oricon charts. That success earned them a place on NHK's popular "Kohaku Uta Gassen" concert at the end of 2002.
Nishina Akiko Remarries
Following yesterday's wedding announcement by actor Nishina Masaki (28) and actress Takigawa Hanako (22) comes the news that Nishina's mother has remarried. Nishina Akiko (57), herself the daughter of a kabuki actor, was married to popular actor Matsukata Hiroki (68) until their divorce in 1998. She raised their two children, who have also entered showbiz. So it is quite a change for her to tie the knot with a manager at a major advertising firm. He is also a divorcee with a grown son.
Japan's First 3D Drama Series
A PR event was held in Tokyo yesterday for the country's first 3D TV drama series. "Tokyo Control," which focuses on the air traffic controllers who maintain order in the skies above the capital, will air on the Sukachan 3D169 cable/satellite channel from January 19. But perhaps in an indication of the experimental nature of 3D television or the show's production costs, it will air every other Wednesday night. It stars Kawahara Ayako (39) and 3D veteran Tokito Saburo (52), who appeared in last year's "The Last Message Umizaru," the last in a series of action movies about the Japan Coast Guard. At yesterday's event, Tokito joked, "I've established my position as the 3D actor guy. Using this opportunity, I've set up the Japan 3D Actors Association, with myself as the chairman!" He expressed his confidence in the new show by saying, "I think it's even better than Avatar."